Through the cancellation of removal, foreigners who request it seek to legalize their situation in the country. In this article you will learn the requirements, procedures and everything you need to know in 2022.
---
If you or a family member has been notified of a deportation process against you, calm down. Our immigration lawyers in Los Angeles are here to help you through this tough time.
We have been successfully representing Latino immigrants in California for over 40 years.
What does cancellation of removal mean?
This form of immigration relief can be used by both lawful permanent residents and non-residents to prevent their removal from the United States.
The cancellation of removal provided in the Immigration and Nationality Act (INA), came to replace the previous legal figure called "suspension of deportation", by provision of the United States Congress. This other form of relief was in effect until March 1997.
Cancellation of deportation and its benefits
By winning a deportation cancellation case you will get numerous benefits, including:
Indefinitely suspend your removal from the country.
Obtain the permanent residence card.
Be eligible to receive government assistance through social programs such as Medicaid, supplemental income security for the disabled, food stamps and others.
Social Security card.
With the help of the best Los Angeles deportation cancellation attorneys at Lluis Law, you can get these benefits.
Contact our immigration lawyers specializing in deportation now at (213) 687-4412 and schedule a private consultation.
Cancellation of deportation for non-permanent residents
In this situation you must meet all these requirements:
The first one is to have a deportation process open.
Have lived in the USA for at least 10 years continuously.
Be a person of good moral character in the 10 years prior to the start of the procedure.
Be the mother or father of a minor under the age of 21, spouse, child of a lawful permanent resident or US citizen. Provided that this removal can cause extreme suffering to the immediate family member who is in the country legally. This point requires documentation to prove it.
Note: Cancellation of removal is a "defensive" request. That means it is a legal relief available only to a person facing deportation in an immigration court. This is different from obtaining a green card by applying to USCIS.
Check our blog on how to get a Green Card for more information.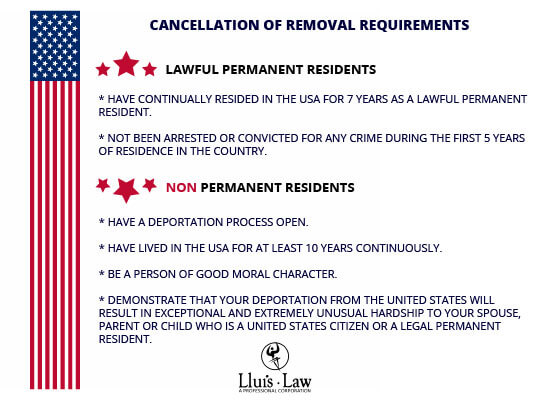 How to demonstrate that you have been in the USA for at least 10 years?
Being an undocumented immigrant doesn't make it easy to prove your stay in the United States for 10 years continuously. These are some documents that will help you in this regard:
Records of your children's school.
Copy of the tax payment known as "tax returns".
Extracts from your bank account.
Payment of telephone bills, mortgages and other receipts.
Who cannot request the cancellation of removal?
Immigrants are exempt from being able to apply in the following cases:
You have remained in the country under an exchange program with the J-1 visa ignoring the obligation to leave and stay 2 years abroad when the program is over.
Having entered the U.S. as a crew member (transit visa type C and crewmember D visa).
Having participated in the persecution of other people in any sense.
If you previously benefited from the cancellation of removal.
Cancellation of removal by VAWA
Through VAWA the immigration attorney can get the deportation canceled and the immigrant may be able to obtain legal permanent residence.
In this article we assume that you know the VAWA law for victims of gender violence. If not, please review our blog post " VAWA visa ".
Who is eligible for cancellation of removal through VAWA?
Applicants do not necessarily have to be women, but must be included in the following criteria:
Abused spouses of legal residents or US citizens.
Sons / Daughters abused by legal residents or US citizens.
Non-abused parents of children who have been abused by a US citizen or permanent resident, even if not married to the abuser.
If eligible, the applicant must prove that:
Being abused or subjected to extreme cruelty.
Been living in the United States for 3 years.
Extreme difficulties for yourself or your children or father.
Has been a person of good moral character for the past 3 years.
However, this immigration relief will be denied if the applicant is:
Inadmissible for criminal or security reasons.
Deportable for committing marriage fraud, falsifying documents or having no record.
Convicted for committing an aggravated felony.
How to request cancellation by VAWA?
After the alien is placed under removal proceedings, he/she must appear in court. Subsequently, he/she must submit Form EOIR 42B along with the documents that support the request.
If the immigration judge decides to grant the cancellation of deportation, the process ends and the foreigner obtains the legal permanent residence or Green card.
Note: There is another procedure similar to that of asylum, which also allows the immigrant to avoid deportation but should not be confused with cancellation of removal. It is the withholding of removal that applies to foreigners who demonstrate the credible fear of returning to their country.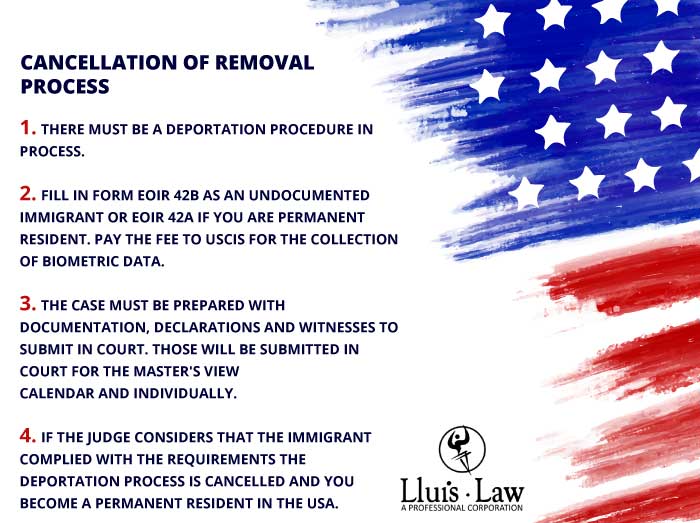 Cancellation of removal for permanent residents
When a permanent resident is convicted of certain types of crimes, he is automatically placed in deportation proceedings. He/she can request cancellation if it complies with the following aspects:
He/she has resided in the US for 7 continuos years as a legal resident.
He/she has not been arrested or convicted of any crime during the first 5 years of residence in the country.
Once the requirements and the judicial procedure that follows are fulfilled, the judge can approve the cancellation of removal. This benefit extends to the other members of the immediate family of the permanent resident (spouse and children).
Steps in the cancellation of removal
The process can be divided into 4 phases where Law 42B, also known as 42B immigration relief, intervenes.
A deportation process must be underway. If you don't have it, then you should ask USCIS to send you a notice of appearance and forward the case to the immigration court.
You must fill out Form EOIR 42B if you are an undocumented immigrant or EOIR 42A if you are a permanent resident. For the collection of biometric data it is necessary to pay the fee to USCIS. The cost constantly varies and is currently $ 185.
The case must be prepared with documentation, statements and witnesses to be submitted in court. You will appear in court for both the Master Calendar and individual hearings.
The immigration judge may consider that the immigrant has met the requirements. In this case, the deportation process is canceled and permanent residence in the United States is obtained.
For more information on rates, please check the following link from USCIS .
At Lluis Law office we offer representation in the Los Angeles Immigration Court . Feel free to contact us for more information.
Documentation required for the procedure
Your attorney will give you a complete list of all the documents required to file the application. This includes:
Copies of tax returns.
Police reports from the city where you have resided.
Proof of study of the child (ren) (citizen or permanent resident) of the beneficiary.
Medical reports of illness or physical disabilities through which an "exceptional and extremely unusual" difficulty is established .
Reports from psychiatrists / psychologists or therapists certifying that the relative's deportation will have effects on the permanent resident or citizen.
Copies of ownership documents or evidence of assets held by the immigrant in the United States.
Bank statements and immigrant investments.
Evidence that contributes to establishing that the foreigner cannot return to their country of origin due to the economic, political or social conditions prevailing there and that they may cause extreme difficulties to the citizen or permanent resident family member.
What is an immigration motion to reopen a deportation case?
The motion to reopen a case after receiving a deportation order is covered by US law. In essence, there are 2 requirements:
1. There must be a deportation order against the alien.
2. The person must be present in the US at the time deportation is ordered. If the foreigner decides to leave the country voluntarily or forcibly, then the motion will be considered abandoned. Similarly, if the immigrant leaves the US and then illegally returns, it will not be considered either.
Under what circumstances can you file this appeal?
This can be admitted by the immigration judge under certain circumstances. The immigration attorney can claim:
A change in the law or invocation of new legal arguments that for the moment were not taken into account;
That certain aspects of the case were not taken into consideration, such as the following circumstances:

The alien is entitled to a green card by marriage to a permanent resident or US citizen. Also a green card for employment, TPS, asylum and others.
By passing a rule in immigration law that favors the foreigner.
Unprofessional performance of the lawyer who previously defended him.
The deadline to file a motion to reopen the case is 90 days. However, if the deportation order is issued by an immigration judge or comes from the Court of Appeals (BIA) it is computed differently. In the absence of the foreigner it can even take years.
Our article " Immigration appeal process" goes into detail on all aspects of this immigration relief.
Can you renew your work permit while being in a cancellation of removal process?
This is possible in some situations:
If you were admitted for the purpose of applying for asylum in the United States.
If your asylum claim is pending and you were previously granted a work permit.
If you have a petition for residency through employment.
If you are eligible for TPS in the United States.
Note: Please note that the final decision rests with USCIS. They may deny your request as it is an exemption from an unclear law. Contact us to check your options.
Cancellation of removal and adjustment of status
After all the procedure you will be able to adjust your status to that of legal permanent resident. The procedure for adjustment of status is done through a request addressed to USCIS.
---
If you have questions about any requirement or part of the process, do not hesitate to contact us. Our attorneys will directly guide you on your options.
We have extensive experience in representing immigrants in the Los Angeles area and the rest of California.