Looking for up-to-date information on the E1 and E2 visas? You are in the right place. These visas are essential for investors and treaty traders from countries which maintain treaty of commerce and navigation with the USA. If you intend to travel to the United States for business purposes, you may do so through an investment.
We recommend that you read this simple guide. If you have any questions, you have our experienced immigration lawyers in Los Angeles at your disposal. They make sure you don't make mistakes in the documentation and explain your best option.
Which countries does E1 and E2 visas include?
E-1: Brunei, Greece
E-1 and E-2: Argentina, Australia (also E-3 visas ), Austria, Belgium, Bolivia, Bosnia and Herzegovina, Canada, Chile, China, Colombia, Costa Rica, Croatia, Denmark, Estonia, Ethiopia, Finland , France, Germany, Honduras, Ireland, Israel, Italy, Japan, Jordan, South Korea, Kosovo, Latvia, Liberia, Luxembourg, Macedonia, Mexico, Montenegro, Netherlands, New Zealand, Norway, Oman, Pakistan, Paraguay, Philippines , Poland, Serbia, Singapore, Slovenia, Spain, Suriname, Sweden, Switzerland, Thailand, Togo, Turkey, United Kingdom, Yugoslavia
E-2: Albania, Armenia, Azerbaijan, Bahrain, Bangladesh, Bulgaria, Cameroon, Congo (Brazzaville, Kinshasa), Czech Republic, Ecuador, Egypt, Georgia, Grenada, Jamaica, Kyrgyzstan, Lithuania, Moldova, Mongolia, Morocco, Panama, Romania, Senegal, Slovak Republic, Sri Lanka, Trinidad and Tobago, Tunisia, Ukraine,
More information can be found on the website of the United States Department of State . Also some clarification on some mentioned countries.
Change of status to classification E-1 and E-2
Being inside the US: Change of status may be requested by the treaty or employer on his behalf. In both cases, a petition will be used through Form I-129.
Being outside of the US: You cannot make a Form I-129 petition while being physically away. In this case, applicants should check the website of the US Department of State to see the possible options. Once they have a visa, the person can apply to a DHS immigration officer at a US port of entry.
E-1 treaty trader visa
This nonimmigrant visa allows the applicant (a member of a treaty country) to enter the U.S. It will do so to participate in international trade on its own behalf. Some employees of the applicant can also enter as we will explain later.
How to qualify for the E-1 visa
The treaty trader must:
Be a citizen of a country with which the United States has a trade and navigation treaty.
The trade it will carry out will be of a substantial nature.
Conduct priority trade between the US and the treaty country for which he/she qualified.
"Trade" means the international exchange of trade items between the US and the treaty country. These items can be:
Services.
Goods.
International banking.
Transport.
Insurance.
Tourism.
Technology and its transfer.
Some activities related to news gathering.
By "substantial trade" we mean a continuous flow of important items of international trade with numerous transactions over time. There is no minimum requirement for monetary value or volume. However this monetary value is an important factor for "substantiality" and more weight will be given to these.
"Priority trade" (or principal) means that 50% of the total volume of international trade occurs between the United States. and the country of the merchant's treaty.
How to qualify as an employee of a treaty trader?
To qualify for the E-1 visa the employee must:
Have the same nationality of a treaty country as the main foreign employer: If the foreign main employer is not an individual, it must be a company or organization at least 50% owned by people in the US with nationality of the treaty country. These owners must maintain nonimmigrant treaty trader status. If they are not within the US they must be classifiable as non-immigrant treaty traders to be admitted into the country.
Comply with the definition of "employee" according to the relevant law .
Perform executive or supervisory functions. If you are employed in a lower capacity you must possess special qualities Duties that are executive or supervisory in nature are those that primarily provide the employee with ultimate control and responsibility for the overall operation of the organization, or an important component of same. Special qualifications are skills that make employee services essential. Here are some possible:
The level of experience demonstrated in the employee's practice area.
If there are others who have the specific skills of the employee.
The salary that special qualifications can order.
If qualifications and skills are available in the U.S.
NOTE: Knowing a foreign language or culture does not by itself meet this requirement. In certain cases an essential skill in the future may become more common and stop qualifying.
E-1 visa status conditions and terms
A treaty trader or employee may only work in the activity for which he was approved when classifying. However, the E-1 employee may work for the parent company of the treaty organization or a subsidiary in these cases:
There is a relationship between organizations.
Subsidiary employment requires essential supervisory or executive skills.
The conditions and terms of employment have not otherwise changed.
USCIS must approve any substantial changes. This is defined as a fundamental change in the basic characteristics of the employer. That is, a major merger, event, or acquisition that affects the relationship previously approved by the treaty trader or employee with the organization.
For more details visit USCIS website.
Treaty investor E-2 visa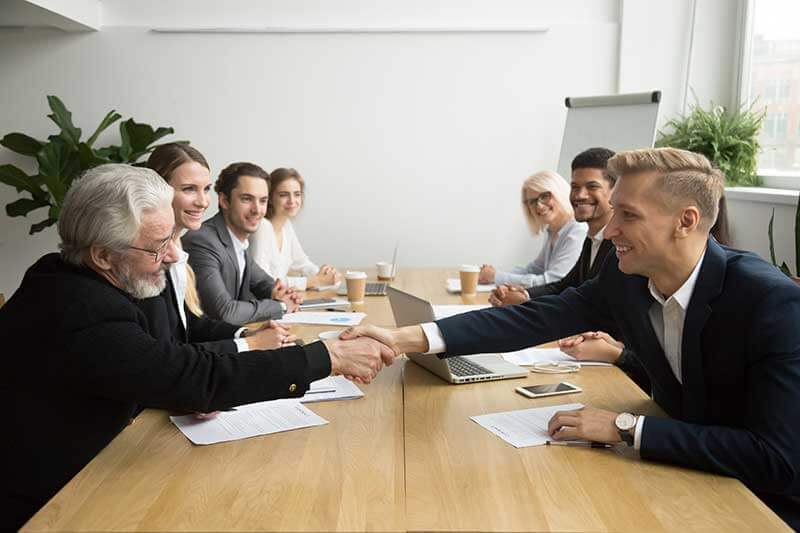 This visa is for investors of a substantial amount who are nationals of a country with which the U.S. maintains a trade and navigation treaty. It is also granted to employees or relatives of the investor.
E-2 investor requirements
To obtain the E-2 visa the investor must fulfill the following:
Be a citizen of a treaty country with which the US maintains trade and navigation.
Having invested a substantial amount in a US company or be in active investment process:
Investment: It is the placement of the investor's capital by treaty including funds and other assets at risk, with the objective of generating income. Capital will be subject to partial or total losses. Investors must also demonstrate that these have not been obtained through criminal activities.
Substantial quantity:
Which is substantial in relation to the total cost of buying an established company or creating a new one.
Enough to guarantee the financial commitment of the investor to the success of the company.
Such that it supports the likelihood that the treaty investor will successfully develop and run the business. The lower the cost of the company, the greater, in proportion, the investment that must be considered substantial.
Genuine company: It is a real, operational and active commercial or entrepreneurial company that produces goods or services for profit. It will comply with the legal requirements applicable in its jurisdiction:
Be looking for a way to enter the US exclusively to direct and develop the investment company. Must show ownership of at least 50% of the company. Failing that, have control of operations through a management position or other corporate means.
The company must not be marginal. In other words, it must generate sufficient income to provide a minimum standard of living for the investor and his family.
Requirements for the employee of an E-2 Investor
To apply for the E-2 visa, the investor's employee must:
Be of the same nationality as the main foreign employer. Both will be from a treaty country.
Being a fully-fledged "employee" in legal terms.
Participate in supervisory or executive level functions or have a lower capacity with special qualifications.
Other terms and conditions mentioned above also apply here to the employee of a treaty trader (E-1 visa). At the end of the article we explain some differences so that you can see it clearly.
Period of stay, extension and readmission in the USA
The maximum initial stay for E1 and E2 visas is 2 years. Extensions can be granted in increments of 2 years each. There is no limit on the extensions that can be granted. However the intention to leave the US when the visa expires should remain.
As a general rule, an E-1 or E-2 nonimmigrant traveling abroad can be granted an automatic 2-year readmission period when they return to the U.S. In many cases it will not be necessary to file a new Form I-129.
Relatives of E1 and E2 visas
Both treaty traders and investors and employees of the treaty trader can be accompanied:
For spouses and unmarried children under the age of 21:

Their nationalities need not be the same as those of traders or treaty employees. The same applies to investors.
If your request is approved as a general rule, they will receive the same period of stay as the employee.
If they are already in the USA they can request a change of status or extension using Form I-539.
Spouses can apply for a work authorization using Form I-765.
Unless family members were present on the automatic extension of the E1 or E2 visas, they must request an extension to remain in the U.S.
How is the E-1 and E-2 visa different?
As you can see the E1 and E2 visas share many similarities but also differences. Let's see some:
Mainly E-1 visa holders are treaty traders (merchants) while E-2 holders are investors.
Each visa status requires the holder to engage in substantial commerce in the United States. However, E-1 visa holders must do so between the US and their country of origin. Conversely, those with the E-2 visa can do business nationally without participating in international trade.
There are far fewer eligible E-1 countries compared to E-2. Therefore, the path for the investor is more available to foreign citizens.
E-1 and E-2 visa attorneys
At Lluis Law we have created an up-to-date guide for visas for the USA. In it you will find all the main visas. From EB-3 visa to K-1 fiance or F-1 student visa. You will also find another guide on how to get a Green Card.
With a combined experience of over 50 years our attorneys have extensive knowledge of visas and the Green Card. If you have questions you can contact us. This does not commit you to anything and we will be happy to help.