Permanent residents of the United States often seek information on how to become a US citizen. In this article we will explain in detail how this process can be carried out step by step.
---
Additionally, both permanent residents and any other aliens have the legal support of our immigration lawyers in Los Angeles. Our attorneys have been guiding aliens toward their American dream for more than 40 years.
LATINOS WITH OVER 50 YEARS EXPERIENCE
Tell Us Your Case
How To Become A US Citizen In 2023
In general, to learn how to become a US citizen, you must first be a lawful permanent resident of the United States. That is, the Green Card must be obtained.
With the adjustment of status or the consular process you can become a permanent resident. Once the Green Card is obtained, the resident can become an American citizen after several years in the country through two ways:
Naturalized Citizenship: The process in which US citizenship is granted to a foreign national after meeting the requirements established by the US Congress in the Immigration and Nationality Act (INA);
Acquired Citizenship: Process when citizenship is acquired through U.S. parents at birth or after birth, but before the age of 18.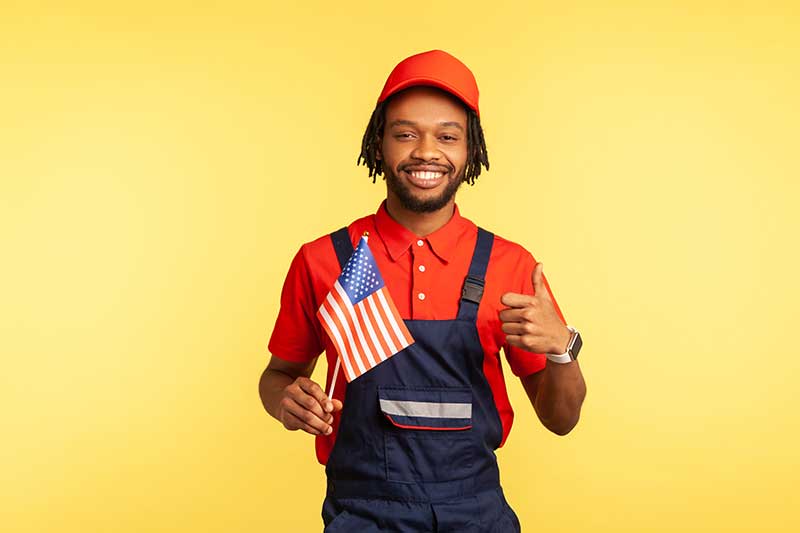 As we explained, there are several ways to achieve permanent residence in the US Are you undocumented or do you not know how to be legal? Check our article on how to legally enter the United States for further information.
How Do You Get Citizenship By Birth?
In order for an alien to obtain citizenship by birth, they must first meet the following requirements:
You were born in the US or certain unincorporated territories or possessions that are subject to US jurisdiction, or;
You were born abroad and your mother, father, or both are US citizens at the time of birth. This implies other requirements that we will indicate later.
Requirements For American Citizenship
To know how to become an American citizen, you must first meet the following requirements:
Be a lawful permanent resident (Green Card holder) for 5 years. Spouses of US citizens only need to be permanent residents for 3 years;
Have good moral character;
Be 18 years of age or older;
Have a basic understanding of the US government (unless you have a permanent physical or mental limitation);
Have maintained a period of continuous residence and physical presence in the US;
Be able to write, speak and read English at a basic level. However, there are some exceptions, provided that the applicant:

Is 55 years of age and has been a lawful permanent resident for 15 years;
Is 50 years of age and has been a lawful permanent resident for 20 years;
Has a physical or mental disability that prevents them from meeting these requirements.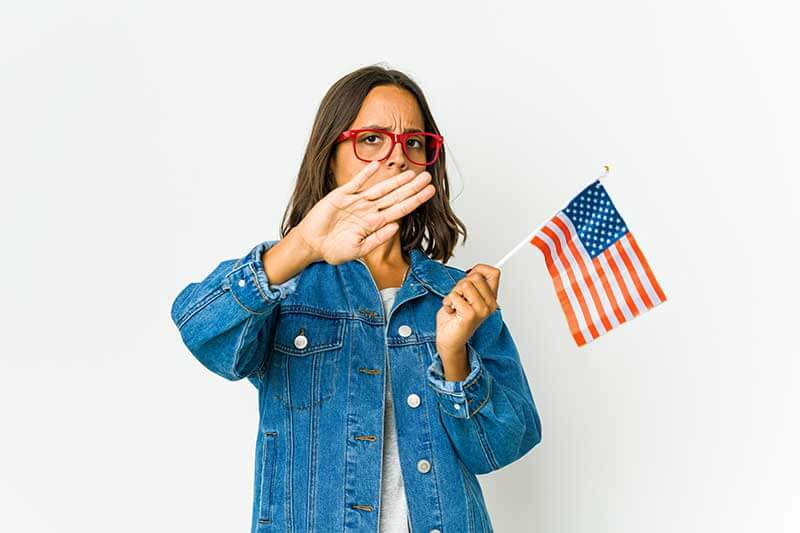 Physical Presence And Continuous Residence Requirements
Physical Presence In The United States
Applicants must demonstrate the following:
Have been physically present in the US for 30 months during the 5-year period before filing for citizenship;
Have been physically present in the US for 18 months during the 3-year period before filing for citizenship as the spouse of a US citizen.
The period of time is different since it depends on the different types of American visas to which the national foreigner qualified for the American residence. In this case, the spouses of citizens have the advantage that the process is faster with the fiancé visa.
Continuous Residence In The United States
Applicants must demonstrate that:
Have continuously resided in the US for 5 years prior to filing their citizenship application;
Have continuously resided in the US for 3 years before filing for citizenship as the spouse of a US citizen.
Although spouses of US citizens have a faster process than other applicants, they also have more requirements to follow. For example, before obtaining the Green Card, they must answer the marriage-based Green Card interview questions.
Other Ways To Obtain American Citizenship
Although you can become a US citizen through 2 paths; naturalization and acquisition, it is also possible through the following means:
Military Naturalization. Members of the US Armed Forces can apply for US citizenship through a more expedited process than other paths, but they must meet certain specific requirements to do so;
Through the parents. To be a US citizen through your parents, you must be born or acquired after birth, but before reaching the age of 18. In addition, children must be:

Biological, legitimate or adopted children of the American citizen, or;
Children of an American gestational mother who is legally recognized as your mother.
Naturalization is also possible for children of US citizens who were born and/or live in or outside the US. However, they must meet the following criteria:
For children living within the US

The child is under 18 years of age;
The child resides in the US under the legal and physical custody of one of the US parents;
The children have a Green Card;
One of your parents is a US citizen by naturalization or birth.
For children living outside of the US:

You are admissible for US naturalization;
You are under 18 years of age;
One of your parents meets all the necessary requirements;
You reside outside the US in the legal and physical custody of a US citizen;
One of your parents is a US citizen, either by naturalization or birth.
How Long Does It Take To Become A US Citizen?
In some cases, the process to become a US citizen usually takes about 5-6 months. However, naturalization applications typically average 14 months and can take up to 20 months or so.
Can an illegal immigrant fly within the US? If you are reading this, it is very likely that you are not a citizen, perhaps not a resident and may be undocumented and wondering how far you can travel through US territory. We give you the answer on our blog.
What Are The Steps To Become A US Citizen?
The steps to apply for American citizenship are as follows:
Determine if you are eligible for citizenship. The applicant must:

Be at least 18 years old;
Hold he Green Card of residence;
Meet other requirements based on your age, military service, and marital status.

Complete Form N-400. For it:

The N-400 naturalization application must be filed online;
Print and fill out Form N-400. Subsequently, it must be sent by mail together with the necessary documentation and the corresponding payment.

Show up at your fingerprinting appointment. At this point USCIS will review the application and then schedule an appointment for fingerprinting.
Attend the interview for the naturalization process. This step involves the following:

Come well dressed. For this, it is important to know how to dress for the citizenship interview;
Submit the naturalization test.

Attend the oath ceremony. If successful in the interview and examination, the applicant will be notified to attend the oath ceremony.
Apply for a US passport. New US citizens can apply for their US passport immediately after completing the oath ceremony.
Applying for a US passport is the last step for new citizens. This is the beginning of a new life, but what happens if they leave the country and their passport is not stamped? Check our article "My passport was not stamped when I entered the United States".
How Much Does American Citizenship Cost In 2023?
Here's how much it costs to become a United States citizen. Currently, it costs a total of $725. This fee charged by USCIS is divided into:
Form N-400 application fee: $640;
Biometric data fee: $85.
There is an exception for applicants 75 years of age or older. They do not have to pay for their biometric data, so they only pay the $640 for the form.
What Happens If I Cannot Pay The Fee To Become A US Citizen?
Applicants may be able to apply to USCIS for a full or reduced fee waiver. To do this, USCIS must approve one of the following forms:
Form I-912, Petition for Fee Waiver. If approved, the applicant will pay nothing;
Form I-942, Petition for Fee Reduction. If approved, the applicant will pay $405 ($320 for the form and $85 for biometric services).
Applicants can use the New Americans Campaign fee calculator to see if they are eligible for a fee reduction or fee waiver. It should be noted that:
The full fee waiver is for individuals with income less than 150% of the poverty level;
The rate reduction is for individuals with income between 150% and 200% of the poverty level.
The application fee can be paid by check, credit card, or money order.
For more information, check the USCIS fees section to find out the price of all forms or contact us.
How To Take The American Citizenship Test?
The naturalization test is the last step (not counting the oath) to become a US citizen. During the interview, the applicant must pass an exam given by the USCIS officer. This exam has two parts:
Civic education test: It is an oral exam that consists of answering a few questions selected from the total number of existing questions. By answering at least 60% correctly, the exam is passed;
English test of 3 parts: Oral, reading and writing .
Note: Although the test is an essential part of obtaining citizenship, some applicants are eligible to apply for a disability or age exception.
How Many Questions Does The American Citizenship Test Have?
The naturalization exam has 2 versions: The 2020 version that consists of 20 questions selected from the 128 questions in total and the 2008 version that consists of 10 questions selected from the 100 questions in total.
Both versions feature questions that include topics from American history and government.
Note: The 2020 version requires at least 12 questions to be answered correctly, while the 2008 version requires a minimum of 6 questions to be answered correctly.
How To Become An American Citizen If You Have A Disability?
Applicants with disabilities may apply for the following exceptions:
Mastery of English. You must be 50 years of age or older and have held a Green Card for at least 20 years at the time of application, or be 55 years of age or older and have held a Green Card for at least 15 years at the time of application.
Medical disability. Those with a physical disability or a mental disorder must file with USCIS Form N-648, Medical Certification for Disability Exceptions (completed by your corresponding physician).
Continuous residence time. For applicants who work in certain types of jobs. Form N-470, Application to Preserve Residence for Naturalization Purposes, must be filed with USCIS .
How To Take The American Citizenship Test In Spanish?
In order to take the US citizenship test in Spanish, the applicant must ask the USCIS officer that they are eligible for an exception to this requirement. This means that the applicant:
Meet the 50/20 exception, or;
Meets 55/15 exception.
However, the applicant should keep in mind that they will need to have a translator for the civics part.
If the requirements established for the exception are not met, the applicant must take the citizenship test in the official language, that is, in English.
What Is The American Citizenship Ceremony Like?
When USCIS approves the N-400 form, it will schedule an appointment for the applicant to attend the Oath of Allegiance. This oath is a naturalization ceremony and is the culmination of this entire process.
There are two types of ceremonies:
Judicial ceremony: The court is the one who administers the Oath of Allegiance;
Administrative Ceremony: USCIS administers the Oath of Allegiance.
Regardless of the type of ceremony that the applicant must follow, they must take the same steps to complete their process.
What To Expect At The US Citizenship Ceremony?
During the citizenship ceremony, the applicant should expect to perform the following steps:
Wait for the notification for the ceremony. It is possible for the applicant to attend the ceremony on the same day as their interview. If not, you should wait for notification via Form N-445, Notice of Naturalization Oath Ceremony;
Register for the ceremony. Once the applicant arrives at the ceremony, they must register with USCIS. Form N-445 must be complete for this step;
Return the Green Card. When the applicants register for the ceremony, they will have to return their Green Card to USCIS. At this point the Green Card will no longer be needed since the Certificate of Citizenship will be obtained in the next step;
Take the Oath of Allegiance. Applicants will not become US citizens until they take the Oath of Allegiance. Once said ceremony is completed, they will receive the Certificate of Citizenship;
Granting of the Certificate of Naturalization. New US citizens should carefully check the certificate of citizenship and notify USCIS of any errors before leaving the ceremony.
Note: If you lose your Certificate of Naturalization, you can apply for a replacement Certificate using Form N-565 , Application for Replacement Naturalization/Citizenship Document. This form must be filed with USCIS.
Benefits Of Becoming A US Citizen
Once the Certificate of Naturalization has been obtained, several benefits that were not previously available will also be obtained. These are:
Right to vote. Permanent residents were not allowed to vote in certain local municipalities. However, with the citizenship certification they can cast their vote in all federal elections;
Application for political office. To be eligible for a US electoral candidacy, you must be a US citizen;
Greater employment opportunities. US law states that only US citizens can be hired to work for the US government;
There will be no deportations. Unlike a US resident, US citizens cannot be deported from the US;
Ability to sponsor relatives. With a naturalization certificate, any parent, sibling or adult child can be sponsored through family based immigration;
Automatic citizenship for children. Children of US citizens will automatically obtain citizenship, even if they were born abroad;
Obtaining a US passport. The American passport provides visa-free access to more than 180 countries and offers almost total freedom to travel the world without imposing restrictions on the duration or frequency of foreign travel;
Greater access to government assistance programs. Permanent residents typically have limited access to federal programs, but as a US citizen, there will no longer be such restrictions.
Did you ever worry about the consequences of applying for food stamps? Now as a US citizen you won't have to worry about it. Furthermore, you won't have to worry about immigration anymore either.
If you have played the dangerous game of illegal reentry after deportation from the country, you should read our article.
Responsibilities After Becoming A US Citizen
Becoming a US citizen brings many benefits, but also responsibilities. Some of these are:
Obey the law. All American citizens must obey federal, state, and local laws. In addition, they must pay the penalties when the law is broken.
Possible renunciation of citizenship of another country. Although the US allows dual citizenship, the applicant's country of origin may not. If so, you will have to renounce your previous citizenship to obtain the United States;
You may be required to serve in the US Army. Although compulsory military service was suspended in 1973, it is still possible for American citizens to be drafted to serve their country;
You may be required to serve on a jury. Jury duty in the US is a mandatory legal procedure. If summoned, the American must attend;
File tax returns for life. American citizens; even if they move abroad, they must file their US income tax returns;
Criminal records will be thoroughly analyzed. Before becoming an American citizen, the US government will analyze the applicant's criminal history since there are certain criminal bars to citizenship.
Frequently Asked Questions About Becoming A US Citizen
Can I Reapply for Naturalization if USCIS Denies My Application?
In many cases it is possible to reapply for a new application. To do this, you must submit a new N-400 form and pay your fee again. The biometric data must also be performed and paid again.
How Many Times Can You Take The US Citizenship Test?
There is no limit on applications to take the citizenship test, as long as they are done correctly. If you fail the naturalization exams, this will not cause alterations in your immigration status or prevent you from obtaining citizenship in the future.
What happens if I don't go to my citizenship interview?
If an immigrant does not attend the citizenship interview, their application will be denied. To avoid this, USCIS should be asked to schedule the interview for another date. If rescheduled, this can add several additional months to the naturalization process.
Is it necessary to hire a lawyer to apply for American citizenship?
Having a lawyer is not a legal requirement. However, the assistance of an immigration attorney will be very beneficial during this process since the process is long and complex and any mistake can break the entire process. Our lawyers know exactly what these cases are like because they have been handling them for years.
Lawyers In Los Angeles For The Process Of Becoming An American Citizen
Now that you know how to become a US citizen, it is important that you remember to meet all the necessary requirements for it. Also, if you apply for naturalization and do not appear on the scheduled date, it could lead to a rejection of your application.
In a best-case scenario, scheduling the interview due to lack of documents or being unavailable could unnecessarily lengthen the time you have to become an American. For reasons like these, the help of an experienced lawyer is key and here you have two.
---
Call the law firm of Lluis Law today, we have experience representing foreign nationals around the world and you can contact us right now.
LATINOS WITH OVER 50 YEARS EXPERIENCE
Tell Us Your Case