¿Looking for the best Los Angeles motorcycle accident lawyers? In South California accident attorneys keep busy all year solving these types of cases. If you or a family member has been involved in a motorcycle accident do not hesitate to contact us. We will help you recover damages and obtain fair compensation.
---
Our car accident lawyers in Los Angeles have been solving cases for more than 50 years. Therefore, we offer a professional, efficient and friendly service to our customers.
The best Los Angeles motorcycle accident lawyers
The number of motorcyclists in California is greater than in any other state in the country. There are more than 800 thousand motorcycles registered throughout the state, according to the specialized website www.es.estatista.com. This makes it particularly susceptible to being one of the highest incidence states suffering this type of accidents.
In Los Angeles County as well as throughout the metropolitan area of ​​the city, motorcycle accidents occur daily. Many of these accidents end up with victims. People end up with serious physical injuries or even die.
Motorcycle accident cases arrive daily at our firm. Some of them are very difficult to deal with and we always have a solution. We are one of the most experienced and effective motorcycle law firms in Los Angeles.
We are also bus accident lawyers and bicycle accident lawyers in Los Angeles, among other areas of practice.
Most common causes of motorcycle accidents
Among the most frequent and common causes of motorcycle accidents we find:
Distracted driving and crashing into other stopped or moving vehicles.
Driving under the influence of alcohol or drugs. You can learn more about this in our "DUI lawyers in Los Angeles" section.
Driving recklessly. Unexpected lane changes and fast roads can be lethal. Vehicles that leave side streets and take the space in the road from the motorcyclist.
Driving at high speed and not being able to dodge or brake behind another vehicle that slows down.
Mechanical failure of the motorcycle.
Dangerous road conditions or poor maintenance.
To a large extent, the work of motorcycle accident lawyers in Los Angeles is based on discovering the causes of it. Also in identifying the responsible person. To do this, if necessary, you must conduct your own research. Do not settle for the police report only.
Who is to blame in an accident between a motorcycle and a car?
Determining the legal responsibility of the other party in the motorcycle accident is crucial to win a case. To prove it in court, injury lawyers must rely on evidence.
Keep in mind that the motorcyclist is in a more vulnerable situation on the road. Therefore, other drivers have a duty to drive more carefully.
A judge can determine that the motorcyclist had part of the fault in the accident which would decrease the value of the compensation. For example, if he drove at high speed or recklessly. However, even in these cases, the motorcycle lawyer can recover damages if he proves that the other driver acted negligently.
To win a case a good lawyer must prove four basic elements.
Prove that the car driver had a legal duty to drive safely.
That driver breached this duty by driving carelessly, violating the law or assuming negligent conduct.
The breach of duty by the driver of the car was what directly caused the injuries during the motorcycle accident. Thus, the accident would not have occurred due to the breach of said duties.
The injuries caused to the victim caused losses.
What to do after a motorcycle accident?
The PAS protocol (protect, alert, help) is very useful in these cases:
Protect ourselves by being safe if we are exposed in the right track. Make a quick self-diagnosis to know if we are injured and the severity. If we can, we must try to get the motorcycle out of the way to avoid more accidents.
If you believe that your injuries are not serious, do not wait for a medical evaluation. The time to go to the doctor after an accident should be immediately after suffering it.
Alert the police and emergency services by calling 911 to ask for help for yourself and the other drivers. In motorcycle accidents, it is quite common for survivors to suffer serious injuries when they are hit by other drivers.
Help other drivers who may be injured, if you are able to move and provide help. Avoid moving the injured so as not to harm them and give them first aid on site. If you find yourself in are in a risk zone, move aside and use any warning sign.
Protect your rights by calling a good accident lawyer and your own insurance company.
Collect as much information as possible in the accident scenario:
Take pictures and videos of the place.
Obtain personal data from other drivers (names, identification numbers, telephone, vehicle data, insurance policy number and more).
Names and details of accident witnesses.
Copy of police reports.
Copy of medical reports.
This information will be very relevant and useful when submitting a claim to the responsible driver's insurance company or deciding to file a personal injury claim.
You may be interested in reading our blog related to questions about car accidents where we talk about the topic in more detail.
The process to file a claim
If you are the victim, you should know how the process is to file and win a claim for personal injuries. This is key after being involved in a motorcycle accident in Los Angeles.
Investigate the accident and determine the cause. The lawyer must discover evidence to support the claim by showing what happened. This will lead you to determine who is responsible.
Document physical, psychological, financial or material damages. This includes medical treatment expenses and material losses. Also psychological reports (possible traumas and other negative effects for the victim).
Prepare the claim with all the documents that support the demand for compensation and present it to the insurance company of the guilty party.
Negotiate compensation with the insurance company. If an agreement is not reached between both parties, damages must be prosecuted through an injury claim in a civil court.
After submitting the claim
The insurer may make a proposed agreement so that the case does not go to trial. This is one of the most important parts of the process, as it will be where the value of the claim presented is determined.
An expert negotiation lawyer is vital to obtain the best possible compensation. He will have to deal with insurance adjusters, who will try to pay a lower amount than required.
Sometimes to avoid paying or paying less, insurers look for any error in the claim or responsibility of the victim in the accident to reduce the amount of compensation. To achieve this they rely on the so-called pure comparative negligence rule of California. For more information, feel free to review our article on car accident compensation in California.
This standard also known as comparative failure, is used in car accidents to determine the relative responsibility of each of the parties involved. So that each person is responsible only for the percentage of fault that corresponds.
Depending on the negotiation and skill of the car crash attorney, an out-of- court settlement could be achieved. If not, a trial is necessary.
Motorcycle accident trial
When it is not possible to reach a reasonable and fair agreement with the insurance company, there is no other option but to take the case to court. Personal injury litigation can be very complicated. Especially when the victim is a paperless immigrant or has a criminal record. At the Lluis Law firm we are also expert immigration lawyers in Los Angeles.
In any case, it is advisable to seek a legal representation of quality that is responsible for handling the dispute. The process facing the court includes:
Writing and filing of the complaint to initiate the claim.
Appearance in court at each stage of the process (hearings).
Filing motions on behalf of the client and rejecting motions filed by the other party.
Preparation and response to requests for discovery, including statements and interrogations.
Legal representation during the trial.
Compensation for a motorcycle accident in 2023
Experienced Los Angeles motorcycle accident lawyers know which medical specialists to consult to determine the severity of injuries. Also how to calculate present and future medical expenses. Likewise, if necessary, they will hire the services of experts to reconstruct the accident and demonstrate the responsibility of the other part.
People can demand compensation for a motorcycle accident depending on the severity of the injuries. The circumstances and the degree of responsibility of the other party will also be considered. The compensation requested by the victim's lawyer may cover the following damages:
Medical expenses (hospitalization, surgeries, exams, medicines, therapies, etc.).
Loss of enjoyment and joy of life.
Physical pain and suffering.
Treatment for psychological trauma.
Permanent injuries and loss of working capacity.
Scars and disfigurations.
Costs associated with home care.
Cost of physical therapy.
Property damage (motorcycle repair / replacement, provisional vehicle rental).
Reduction of earning capacity.
California law stipulates that in the event of death, the surviving relatives of the motorized can also claim compensation for wrongful death to the negligent driver.
Most frequent injuries in motorcycle accidents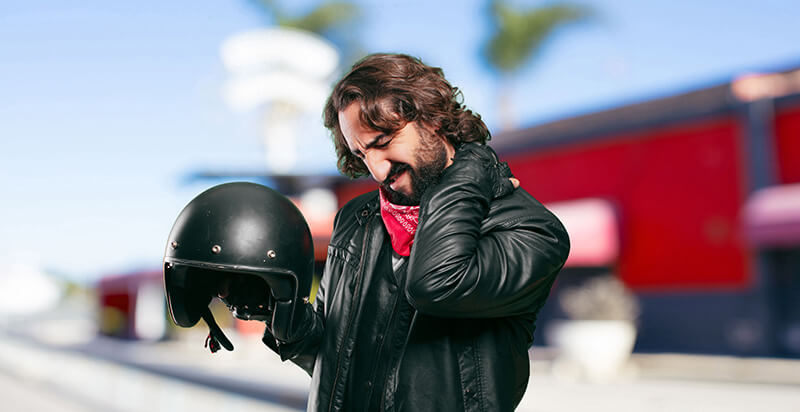 Unlike other drivers, motorcyclists are more exposed to accidents with serious road injuries while driving. Both motorcyclists and cyclists have very little protection. That makes them more vulnerable.
The most frequent injuries in traffic accidents where motorcycles are involved are:
Injuries in arms and legs including amputations and severe bone fractures.
Craniocerebral fractures (head and brain).
Spinal cord injuries.
Damage to internal organs.
Injuries in the face (includes disfigurements, scars and damage to the eyes).
Burns, scrapes and abrasions on the skin when rolling on the pavement.
Death. Unfortunately these accidents sometimes end with the life of the injured victim.
In our section about "Common car accident injuries", we review in detail some of the most frequent ones.
Why hire the services of Lluis Law's Los Angeles motorcycle accident lawyers?
Surely you will have wondered how much do car accident lawyers charge. In our case, the answer is very simple: we do not charge fees in advance. We work with contingency fees, this means that you will not pay professional fees unless we win the case.
In other words, no win no fee.
Consulting with specialized lawyers is not an option, it is the only alternative. If you really want to file an insurance claim with certain chances of success. A good lawyer will be able to circumvent the obstacles that insurance companies often put to pay compensation.
Lluis Law motorcycle accident lawyers help clients better understand their rights. We also guide them on the options they have.
This will allow you to make a more accurate decision in the search for the best possible compensation.
Often people die and or injuries leave sequels for a lifetime: paralysis, amputations and more. To win a case it is essential to know how to file a successful claim, what questions to ask and how to argue the claim.
Our service
Free evaluation of your case.
We quickly resolve each case with optimal results, as indicated by our professional success statistics.
A recognized law firm with 50 years of experience in the field.
We offer personalized attention to our clients with the lawyers themselves, not with associated professionals or assistants.
We maintain permanent communication with our clients and offer quick answers.
---
If you have been involved in a motorcycle accident, we can help you. Feel free to contact our motorcycle accident experts. Request your free consultation right now. It does not compromise anything and is 100% confidential.