In a closed 5 – 4 vote that took place on Thursday, June 18, the United States Supreme Court decided to block attempts by the Trump administration to suspend the Deferred Action for Childhood Arrivals (DACA) program, which protects around 700 thousand undocumented young people with roots in the country, called dreamers.
This program, created by the Barack Obama government in 2012, was eliminated by President Donald Trump in 2017. However, several lawsuits agreed by district and federal courts prevented the government's decision from being consummated.
The decision of the magistrates of the highest court thus ratifies the lower court rulings that had previously described as illegal the decision of the federal government to eliminate this program.
DACA provides protection for young undocumented immigrants to prevent them from being deported. The thousands of immigrants enrolled in the program were brought to the United States as children.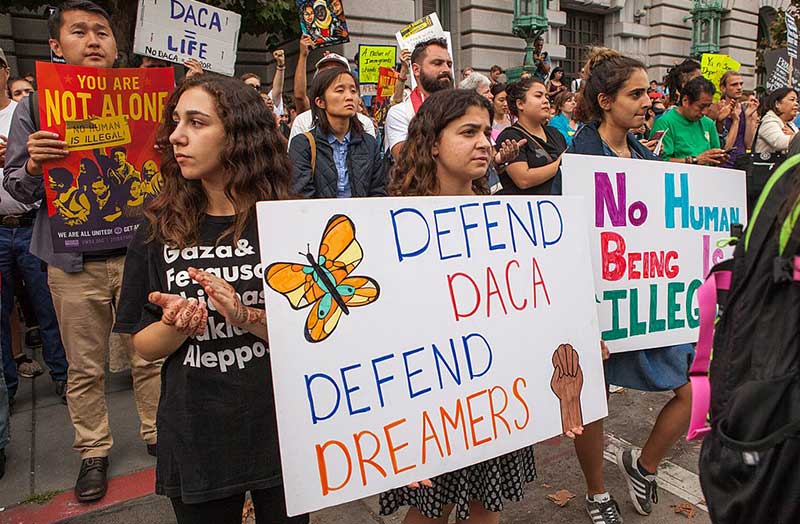 In our article "What is DACA" you can learn everything about this immigration benefit.
Following the Supreme Court ruling, DACA beneficiaries – who had remained in legal limbo – will now be able to renew their affiliation to the program again. DACA allows dreamers to work legally without fear of being deported.
The decision of the highest court had the vote of its president John Roberts, of conservative tendency, and of the judges Elena Kagan, Ruth Bader Ginsburg, Sonia Sotomayor and Stephen Breyer.
The Supreme Court said President Trump's move against DACA beneficiaries had been "arbitrary and capricious." This is a new setback for the Trump administration that had promised to eliminate the program.
Although the opinion will not prevent the government from persisting in its attempt to end DACA. The dreamer case has been under consideration by the highest US court since November 2019.
Upon learning of the ruling, President Trump expressed his rejection of the decision through his Twitter account:
"These horrible and politically motivated decisions coming from the Supreme Court are shots in the face of those who are proud to consider themselves Republicans or Conservatives. We need more judges or we will lose the 2nd amendment [which guarantees the right to bear arms] and everything else. "

Trump
And added in another tweet:
"Do you have the impression that the Supreme Court does not like me?"

Trump
According to what has been stated, it seems that the US president will not surrender with DACA. In another trill, he announced that his administration "will have to start the process over again."