If you are looking for a Los Angeles prescription drug fraud attorney to represent you, don't hesitate to call us. At Luis Law we have over 50 years of combined legal practice dealing with these cases.
---
We are specialist Los Angeles drug crimes lawyers with a very high record of successful cases. Our well-earned reputation as the best lawyers for drug fraud cases is based on 3 main reasons.:
We offer an aggressive defense.
We protect client rights.
We accompany you at all stages of the process.
LATINOS WITH OVER 50 YEARS EXPERIENCE
Tell Us Your Case
California Prescription Drug Fraud
California's drug laws don't just cover controlled substances like heroin, cocaine, ecstasy, methamphetamine, and marijuana. They also include abuse of illegal prescriptions and possession or sale of drugs without a prescription.
Fraudulently issuing or obtaining a prescription is considered a felony in the state. For this offense, both the doctor and the recipient of the prescription can be jailed and fined. In addition to incarceration, prescription fraud can lead to the loss of a professional doctor's license. 
This crime is criminalized in California Health and Safety Codes 11153 and 11173 . The two statutes are considered judicially "unstable" , since the prosecutor decides the seriousness of the crime charged. That is, you can classify prescription drug fraud as a misdemeanor or felony.
At Lluis Law we are also Los Angeles injury lawyers. If your case is related to medical malpractice check out our section on medical malpractice attorneys in Los Angeles.
Definition Of Drug Prescription Fraud
Drug prescription fraud involves altering prescriptions written to increase the amount of prescribed medical drugs. For example, pills or syrups or counterfeiting prescriptions in a print shop.
If your case is due more to an accident caused by the use of a defective product, check the section "Los Angeles product liability lawyers".
Types Of Prescription Drug Fraud
Patients and doctors often participate in this crime. The main types of prescription drug fraud are the following:
Deceit to doctors to obtain the prescription of the drug of controlled use by means of the concealment of information.
Issuance of illegal prescriptions by doctors, dentists or any other medical professional to unauthorized persons.
Sale of prescriptions or prescription drugs. The patient sells the prescription or prescription drug to other people.
The following illegal acts are also considered prescription drug fraud:
Theft of prescription drugs / medicines in general.
Theft of prescription pad.
Prepare medical prescriptions for non-existent patients.
Get prescriptions from multiple doctors or providers.
Overprescribing medication to a patient.
Change the information or content of the prescription. For example, signature, date, patient's name, phone number, and the amount or type of medication prescribed.
Giving or selling prescription drugs to people without a prescription.
Illegal Possession Of Prescription Drugs
Possessing a restricted use drug without a valid prescription is punishable by law. California Health and Safety Code Section 11350 HSC makes it a crime.
This includes, but is not limited to, the following pain relievers and anti-anxiety medications:
OxyContin
Ketamine 
Vicodin
Xanan 
Codeine 
Darvon
Valium
After Proposition 47 was passed this offense was reduced to a misdemeanor in many cases. Normally, its punishment does not exceed 1 year in prison or the payment of fines depending on the amount and circumstances.
Drug Diversion Program
The judge can substitute the prison sentence for a drug diversion program. PC Penal Code Section 1000 authorizes this with deferred entry of judgment. Upon successful completion of this program the charges are dismissed.
If you do not qualify for this program, your attorney can apply for so-called Proposition 36 benefits . Through this resource the accused can undergo drug prevention treatment.
The benefit of participating in a drug program is that the defendant does not need to plead guilty to the charges. However, we advise you to consult with your lawyer first about which of the two legal options is best for you.
At Lluis Law we always seek the greatest benefits for our clients. We make them fully understand the drug law and the legal resources available.
We are also immigration lawyers. Therefore, if you are an immigrant you will have a stronger defense. 
Possession Of Prescription Drugs With Intent To Sell
Section 11351 HSC: Penalizes the possession of prescription drugs as a crime.
Section 11352 HSC: Penalizes the sale of prescription drugs.
The only ones authorized, according to this section of the code, are pharmacists. They are legally permitted to possess and sell these types of drugs by the nature of their work.
Los Angeles Doctor Bribery And Prescription Fraud
Possession of prescription drugs obtained through drug purchase or prescription fraud is also punishable in California.
Section 11173 of the Health and Safety Code makes it illegal to obtain controlled substances through illicit means. 
It punishes individuals who obtain these drugs through deception, concealment of information, fraud or subterfuge. If found guilty of a felony, the maximum sentence is 3 years in prison. 
The criminal act involves obtaining additional prescriptions after attending multiple medical appointments. It is usually committed by people who become addicted to certain prescription drugs.   
Counterfeit Prescription 
Section 11368 HSC: Up to 3 years in prison for prescription falsification.
Section 11154 (a) HSC: Physicians who illegally prescribe drugs or any controlled substance are subject to sanctions as well. Through bribes, sick people or drug dealers buy prescriptions from doctors to obtain these drugs.
Section 11156 HSC: Physicians who prescribe certain medications to known drug-addicted patients could still be penalized. Likewise, this form of crime is considered serious. 
Physician sanctions include loss of professional license and disciplinary action by the Medical Board of California.
Punishments For The Crime Of Prescription Fraud
Purchasing and prescription fraud is covered by Section 11173(a) of the Health and Safety Code. The California justice penalizes with sentences of up to three years in prison in a state jail, if you are found guilty. When the crime is classified as minor one, the penalty may be less than one year in prison. 
On the other hand, the doctor who issues fraudulent prescriptions violates the Health and Safety Code Section. They could face up to a year in state jail and pay a fine of up to $20,000.   
The punishments for the crime of fraud are as follows:
Missdemeanor. Up to 1 year in prison in a county jail and a fine of up to $1,000, or both.
Felony. 16 months to 3 years in prison in a county jail and a fine of up to $20,000, or both.
With the help of a good criminal defense lawyer it is possible to reduce or eliminate prescription drug fraud charges. If this is the first time the offender has been charged with this crime. 
At Lluis Law we know how to handle these cases and weigh whether an advantageous negotiation with the prosecutor is possible.
What Are The Penalties For Possession Of Prescription Drugs In California?
This crime falls under the "unlawful possession of a controlled substance" under California law. It is punishable as a misdemeanor by imprisonment for up to one year in the county jail and a fine of up to $1,000.
If the defendant is eligible for the pretrial drug diversion program, they may not go to jail. The performance of an experienced Los Angeles prescription drug fraud attorney will make all the difference.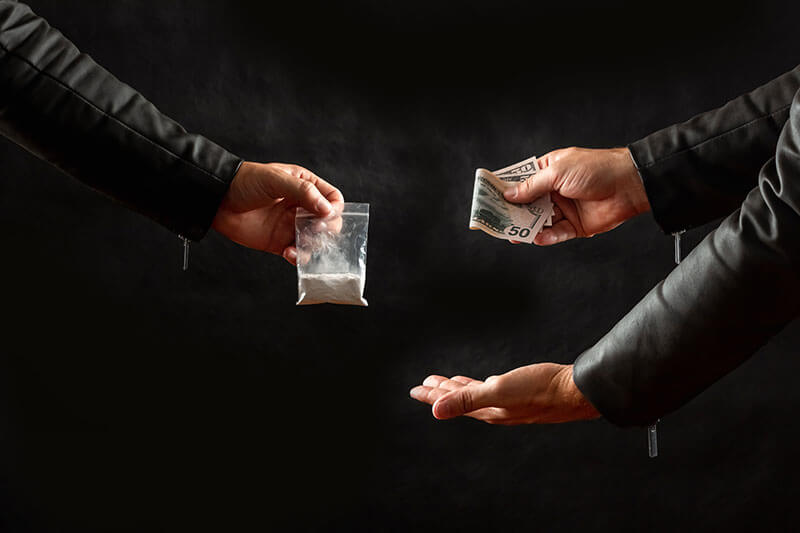 What Is The Maximum Penalty For The Crime Of Forging Prescriptions?
If the individual is charged with forging or possessing four or more illegal blank prescriptions, it could be classified as a felony or misdemeanor. This is provided for in section 11162.5 of the California Health and Safety Code.
As a misdemeanor, forging prescriptions or possession of more than three prescriptions is punishable by imprisonment for not more than one year.
Counterfeiting or possession of less than three or fewer counterfeit prescriptions is punishable by imprisonment for not more than six months in the county jail and a fine not to exceed $1,000.
As a felony, a maximum sentence of three years in prison and a fine of up to $20,000 or both are imposed. 
What Are The Possible Defenses?
To be prosecuted for prescription fraud, the prosecutor must prove that the prescription was obtained through illegal means. Consequently, the criminal defense attorney will need to try to show that:
There was no deception or fraud in obtaining the prescription but a prescription error on the part of the doctor.
Doctors administered the prescription knowingly and for proper medical reasons. 
Visiting several doctors was for the purpose of obtaining a second opinion. Although the patient did not fully disclose the facts to each of the doctors visited, there was no intent to commit a crime. 
The accused did not know that the recipe was forged. The prosecutor must prove that they were aware of it.
The falsified prescription was never used, although it can be imputed for possession or alteration of the prescription. 
Defendant did not alter or forge the recipe in any way.
Defendants were unaware that they could not sign the prescription. The prosecutor must also prove otherwise.
The defendant was authorized to sign the prescription.
Finally, the defendant was forced under duress by another person to write or deliver the false prescription.
Prescription Drug Fraud FAQs
Are fake prescriptions illegal?
Fake prescriptions are illegal in California whether they were written and signed by a doctor or another unauthorized person posing as a doctor. The same applies if these are printed or issued illegally.
How can the crime of issuing a false prescription be punished?
As already indicated above, as a "wobbler" the prosecution can charge the defendant with a felony or a misdemeanor. It will depend on the mitigating circumstances or not and whether the prosecution wants to reach an agreement with the defense. 
Are individuals convicted of prescription drug fraud eligible for a drug diversion program?
Yes, when the defendant is a regular drug user. These programs are geared towards drug possession cases and seek to help you overcome your dependency on narcotics.
Is the crime of false declaration to obtain a prescription medication charged regardless of the means used?
Yes. This crime, defined in Section 4323 of the California Business and Professions Code, establishes it. It does not matter what means the defendant used to make the false statement and obtain the medication (telephone, mail, or in person).
How is the falsification of a signature on a medical prescription proven?
Counterfeiting is proven in two ways; through the testimony of a witness or graphotechnical evidence to determine the validity of the signature.
Is it illegal to give someone else your prescription drug in California?
Yes. Sharing prescription drugs with another person is also considered a crime in California. Even in cases where the person only does it to help another who really needs them for health reasons.
The crisis generated in the US by the consumption of opiates and other controlled substances has led the authorities to toughen the fight against drugs and punish those who break the law with heavy punishment.
Benefits Of Hiring A prescription drug fraud Attorney At Lluis Law In Los Angeles 
Being charged with the crime of prescription fraud or forgery does not mean that you will be convicted. Mitigating elements or a reasonable explanation for the defense may be discovered during the examination of the case.
There are honest individuals who make mistakes, lose their minds, suffer from depression and become addicted to certain drugs. When they find it difficult to obtain them, they resort to illegal practices sanctioned by law.  
---
If you need a prescription drug fraud attorney in Los Angeles, give us a call. At Lluis Law we pay special attention to each case and offer the legal representation service that every client deserves.
LATINOS WITH OVER 50 YEARS EXPERIENCE
Tell Us Your Case