If you want to travel to the United States, you need to know the different types of American visas you may be eligible for. This largely depends on your travel purpose to the country.
In this article you will learn about the different types of main American visas. If you also want to obtain detailed information on each of these, you will find different links throughout the blog to the corresponding type of American visa.
---
Our immigration lawyers in Los Angeles from Lluis Law will be able to help you with everything related to these visas. We are well known for having over 50 years of combined experience in these cases, so you'll be in good hands. Contact us today and receive information through a personalized consultation.
LATINOS WITH OVER 50 YEARS EXPERIENCE
Tell Us Your Case
Main Categories And Types Of American Visas In 2023
So, what are the types of visas that exist? Let's take a look at the most popular sorted by categories and purpose of travel:
Tourist And Business Visas
In this category, there are 2 types of American non-immigrant visas, which are:
---
B-1 business visa: This can include:

Business partners;
Attendees to conventions of a scientific, commercial or educational nature;
Athletes (amateur and professional) who compete for cash money;
Liquidation of assets;
Negotiation of contracts;
Domestic workers or nannies.
B-2 tourist visa for the United States: It is a visa for the United States whose activities are related to:

Tourism;
Holidays;
Visits to family and/or friends;
Pleasure purposes.
Social and/or service activities;
Medical treatments.
Note: In some cases, these two visas can be combined into a B-1 and B-2 visa.
Temporary Worker Visas
These visas are issued for temporary workers in the US only. They include the following:
---
E-3 visa: Australians working in specialized areas.
H-1B visa: Foreign workers in specialty occupations.
H-1B1 Visa: Free Trade Agreement (FTA) professionals from Chile and FTA professionals from Singapore.
H-2B visa: Temporary non-agricultural workers.
H-3 visa: Special education trainees or visitors.
L-1 visas: Workers transferred within the same company in managerial positions or for having specialized knowledge. It includes two subcategories:

L-1A visa. Transfers of executives or managers within the same company.
L-1B visa. Transfers of professionals with specialized or expert knowledge within the same company.
O-1 visa: Aliens of extraordinary ability in the arts, sciences, education, business, or athletics.
Q visa: Visitors in cultural exchange programs between the US and other countries.
P visa: Athletes, artists and their spouses. Includes the following categories:

P-1A. It applies to internationally recognized athletes.
P-1B. For artists or members of an artistic group (both with international recognition).
P-2. For individual artists or members of a group coming to perform in the US under a reciprocal exchange program.
P-3. Individual or group artists or presenters who come to the US to perform, teach or consult under a unique cultural program.
Religious type R visa: For religious workers.
I visa: For journalists and foreign media.
TN Visa : North American Free Trade Agreement (NAFTA) Temporary Professionals.
Permanent Worker Visas
In this category the types of American visas for immigrants through employment are named. This means that immigrants can get a Green Card through a job in the US.
---
Students and Exchange Visitor Visas
Depending on the field of study and the center, you can get the student visa for the United States. The exchange visitor visas are aimed at those who participate in exchange programs and some type of practical training and employment within the US.
---
F-1 visa: International students enrolled in an academic study program in the US.
F-2 visa: Dependents of the F-1 holder (spouse and children).
F-3 visa: Mexican or Canadian academic students who have to move periodically (Commuter).
M-1 visa: Foreign students enrolled in a vocational program.
M-2 visa: Dependents of the M-2 holder (spouses and children).
M-3 visa: Mexican or Canadian commuter vocational students.
J-1 visa: Aliens in study or work exchange programs.
J-2 visa: Dependents of J-1 visa holders.
Family Visas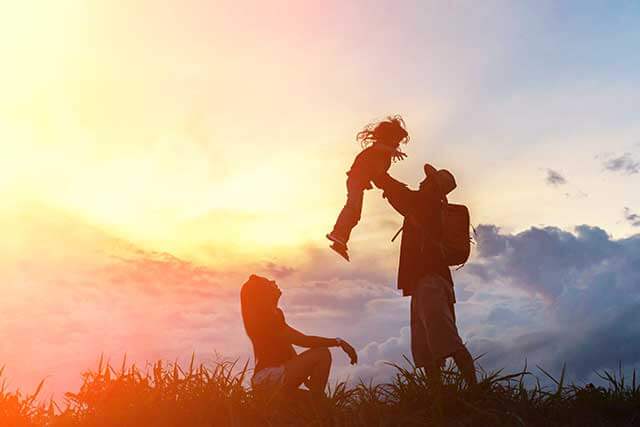 We have a section dedicated to US family based immigration which covers popular topics such as " How long does it take to bring my spouse to the US" and "Can a US citizen sponsor a child over 21" among others.
---
V visas: Allows families to stay together while waiting for the processing and approval of an immigrant visa.
Visas for spouses of American citizens:

IR-1: Spouses married to US citizens for at least 2 years;
IR-2: Unmarried children under 21 years of age of US citizens living outside the US;
CR-1: Spouses married to US citizens for less than 2 years.
Fiancé(e) visas:

K-1 fiancé(e) visa: US citizens can bring their fiancé(e) to the country to marry and live legally;
K-3 and K-4 visas: Specifically, the K-3 visas are for the spouses of American citizens to enter the United States while they wait for their approval of the Form I-130, petition for an alien relative. The K-4 visa is the same but for the children of the K-3 visa applicants.
Visas for certain relatives of US citizens:

F1: Unmarried children 21 years of age or older;
F2: Married children;
F3: Siblings, if the American is 21 years of age or older.
Visas for Family Members of Lawful Permanent Residents:

F2A : Spouses and minor children;
F2B : Unmarried children over 21 years of age.
Orphan Child Adoption Visas (by U.S. Citizen):

IR-3 : Children adopted abroad by US citizens.
IR-4 : Children to be adopted within the United States by US citizens, or were adopted abroad by only one parent, or were not seen by their parents before or during the adoption.
IH-3 : Children adopted from a Hague Convention country.
IH-4 : Children from a convention country who can be adopted into the US.
Note: IH visas are for children from countries that belong to the Hague Convention. Whereas IR is for children from countries that are outside the Convention.
Transit And Crew Member visas
As a general rule, all aliens who wish to transit through the US need a visa, even if they are stopping in the country. Both crew members and pilots of aircraft and ships require one. These include:
---
US transit C visa: This is a transit visa through the US to another destination abroad. Basically it is for a stopover in the United States.
Crewmember D visa: It is a crew visa for those who work on board commercial and international aircraft or vessels.
D-2 visa: For pilots and crew members entering the US and sailing to their destination with a different aircraft or ship than the one that arrived on US soil.
BCC: Known as laser visa, it is a border crossing card between the US and Mexico.
Visas For Diplomats Or Foreign Government Officials
These visas may be issued to diplomats and other government officials for official or transit travel to the US. The type of visa you need is often determined by the purpose of your trip.
---
Diplomatic A type visa: It is for officials and diplomats of a foreign government. It includes the following two subcategories:

A-1 Visa: Diplomats or foreign government officials traveling to the US on official business.
A-2 visa : Mid-ranking military officials working full-time at an embassy or consulate in the US. Includes civilian diplomatic officials and their immediate family members.
G Visa: Employees of designated international organizations and NATO. Includes the following visas:

G-1: Members of the permanent mission of a recognized government to a designated international organization. It also includes your immediate family members;
G-2: Representatives of a recognized foreign government traveling temporarily to the US to attend meetings of an international organization. It also includes their direct relatives.
G-3: Government representatives or unrecognized members and their immediate family members;
G-4: Aliens traveling to the US to take up a position with a designated international organization. Includes your immediate family members.
G-5: Personal employees or domestic workers of G-1 through G-4 visa holders.
Trader And Investor Visas In The United States
Remember that the EB-5 visa that we included in the permanent worker block aboive is that of the Immigrant Investor Program administered by USCIS.
---
Visas For Victims Of Crimes, Violence And Abuse
Those aliens who have been victims of abuse or certain crimes, may be eligible for the following visas:
---
T visa: Victims of human trafficking.
U visa: Victims of criminal acts.
VAWA visa : Victims of abuse or extreme cruelty.
Our attorneys are not only immigration specialists, they are also expert criminal lawyers in Los Angeles.
Other Types Of Visas In The United States
There are other types of visas that are almost an independent category in themselves. Here are some of the most popular:
---
Diversity visas: For immigrants who come from countries with a low rate of immigration to the US.
SB-1 visa: For permanent residents who, for reasons beyond their control, have been out of the country for more than a year or their re-entry permit is no longer valid. This visa grants them entry to the United States again.
S visas: For informants and witnesses of criminal or terrorist activities who assist US law enforcement authorities.
Didn't find the visa you were looking for? Don't worry. Here we have only included the most important ones but that doesn't mean we can't attend you with your particular case. Whatever visa you need assistance with, feel free to contact us.
Our attorneys have a combined 50 years experience dealing with all types of American visas and their eligibility for our clients.
What Are The Requirements To Apply For The American Visa?
Now that you know what type of American visas there are, it is time to know their requirements. Each visa has its own specific requirements, so you will only be able to find out if you choose the corresponding visa.
However, we will show you the most common or general requirements for these requests:
A filled DS-160 Form. Subsequently, your confirmation sheet must be printed;
Have a valid passport. Must be valid for at least 6 months;
Have a photograph. The photo must meet the following requirements;
Details of your social networks. A list of each of these, the name and your email must be submitted.
These are just some basic requirements. Also, they can change depending on your nationality.
Keep in mind that different types of American visas are available for Mexican, Colombian, and Venezuelan immigrants as well as those in Nicaragua, Honduras, or any other country. Therefore, your requirements may vary.
How To Apply For A Visa To The United States?
The application process depends on the type of visa for which you are eligible. The most common process is as follows:
Fill out the visa application form;
Pay the respective application fee;
Schedule an appointment with the US embassy;
Gather all the necessary documents for the visa interview;
Attend the interview.
Tips To Prepare For The Visa Interview At The US Embassy
Here are some tips for the American visa interview:
Comply with the assigned schedule. You must arrive on time, but no more than 15 to 30 minutes before your appointment time. The line outside is not organized based on arrival time, so it is not necessary to arrive many hours in advance;
Respect the safety rules. The security control is similar to that of the airports, therefore, you should not enter the embassy with articles or artifacts that are not allowed;
Bring all the necessary documents. You must bring all the documents required for your visa application to the interview. In addition, receipt of payment of each of the requested fees;
Answer all questions from the consular officer. These questions are made by the consular officer to determine if there is any risk that if the visa is approved, the aliens will fulfill their initial purpose and not another one. For example, using a nonimmigrant visa with purposes of unlawful presence in the United States;
Know the consequences of lying. It is very important to answer truthfully in the interview. Offering false documentation or lying to obtain a visa is considered fraud and can lead to visa ineligibility for the rest of your life;
Be polite. Finally, it is essential not to insult, shout, make bad comments or similar things. These attitudes can be recorded in the files of the applicants, which makes it difficult to approve the visa in the future.
Frequently Asked Questions About The Different types of American Visas
How many types of US visas are there?
There are about 185 types of US visas and they are divided into 2 main categories, nonimmigrant visas and immigrant visas.
What does a US visa look like?
When you receive the US visa you will get something similar to the following image: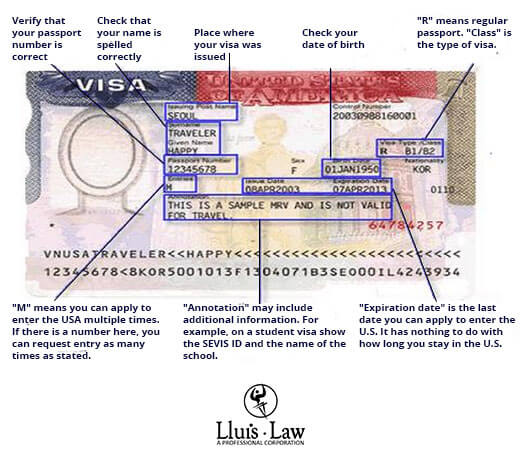 What Is The Nonimmigrant visa?
Non-immigrant visas are those that only allow a temporary stay in the US, whether for reasons of business, tourism, studies, visits or others. Once the alien fulfills the purpose of it or the visa expires, they must leave the country.
What Is the difference between an immigrant and nonimmigrant visa?
The main difference is that aliens with immigrant visas can stay in the US permanently. On the other hand, those with non-immigrant visas can only stay in the country temporarily.
What is the easiest way to get the visa?
If you are wondering which US visa is easy to obtain, for most immigrants, the easiest to obtain is the B-2 visa. This is because it is a quick way to get into the US, especially if you want to visit for pleasure purposes.
Can I have two types of American visas?
In some cases, it is possible to have two types of US visas at the same time. Different visas are granted depending on the purpose and function of the aliens's trip to the US. An example is the American B-1/B-2 visa types, which can be granted at the same time for business and tourism purposes.
What type of visa is best for the United States?
No visa is better than another. Before you apply, you should determine which type of visa is best for you and which suits your needs or purpose of travel to the United States. In these cases, it is essential to have a good immigration attorney.
Does the visa guarantee entry to the US?
Although the visa allows alien nationals to travel to a US port of entry and apply for permission to enter the country, having a visa approved does not guarantee entry to the United States.
Do my children or elderly parents have to go to the visa interview?
Generally, applicants under the age of 14 and over the age of 80 do not need to appear at the embassy for the visa interview.
If I lose my passport, do I also lose my visa?
If you lose your passport, you must apply again for the visa, since this is also lost.
Why was my visa denied?
Most denials are under section 214(b) of the Immigration and Nationality Act (INA). This type of denial is often related to their failure to demonstrate to the consular officer that they have strong ties to their country of origin and strong reasons to return after traveling to the US.
How long does it take to deliver a US Visa?
Once the interview is over, the officer in charge will inform you if the visa has been approved or rejected. If approved, you can pick up your passport with the visa at the DHL branch or wait to receive it at your home address. This can take a period of 5 to 7 business days to be sent, but in certain cases it can take weeks or months.
For how long is a US visa valid?
Generally, American visas have a validity period of 10 years. However, this validity does not determine the length of stay in the US.
What countries do not need a visa for the USA?
Those countries within the Visa Waiver Program (VWP) do not need a visa to enter the US. To do so, they must process an ESTA application.
Lawyers In Los Angeles For The Different Types Of American Visas
Our office has been located in the heart of downtown Los Angeles for more than 40 years, near the courthouses. Our lawyers are well recognized and appreciated, especially among the Latino community, for having helped hundreds of immigrants process the different US visas.
---
If you have questions about a visa, need to process one and require our legal services, do not hesitate to contact us today. Having lawyers by your side with extensive experience in all types of immigration matters may be the first step to achieving your goals.
LATINOS WITH OVER 50 YEARS EXPERIENCE
Tell Us Your Case