If you are a journalist or a member of the press from abroad seeking to enter the United States to practice your profession, you may be eligible for a type I visa.
Generally, alien nationals wishing to enter the US will need to have a valid visa to do so. If you need advice on this type of visa for the United States, do not hesitate to contact us.
---
The immigration lawyers in Los Angeles at Lluis Law have more than 40 years of legal practice. They process visas, adjustments of status, consular procedures and other immigration matters.
LATINOS WITH OVER 50 YEARS EXPERIENCE
Tell Us Your Case
What is a Type I visa for media?
There are many types of American visas available for immigrants and the I visa is the one intended for journalists, foreign media, members of the press, film, radio or printing who are traveling temporarily to the US to practice their profession or media functions.
Some media workers may also be eligible for other specialized categories, such as O visas (arts and education specialists), P visas (entertainers, artists, and athletes), and H visas (general work).
Spouses and/or children under the age of 21 who wish to accompany the I visa holder may also be eligible to apply for the I-2 nonimmigrant one.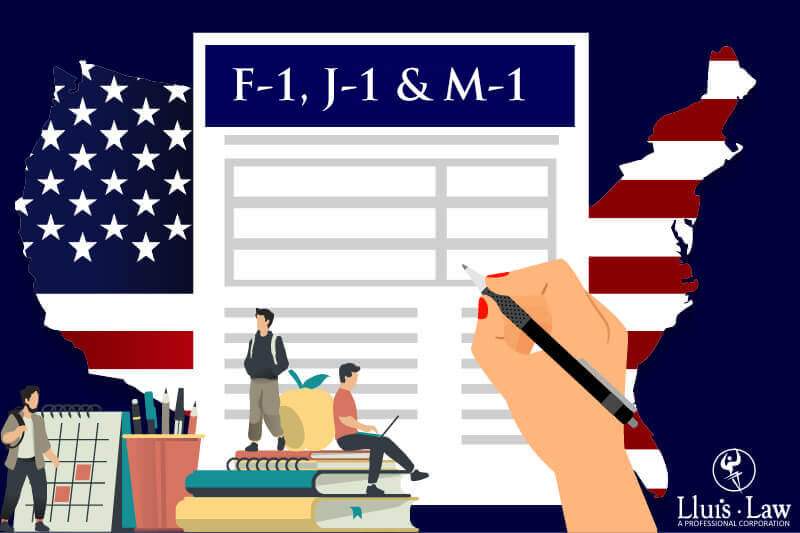 Please note that spouses and/or their children will not be able to work on an I nonimmigrant visa. However, they will be able to study in the US without the need for an US student visa.
Requirements to apply for the type I media visa
The main requirement to apply for the I visa is to be a qualified employee of a media organization that has its offices outside the United States. The consular officer will be the one who determines if your task qualifies for obtaining it.
I visa limitations
Foreign citizens who belong to the Visa Waiver Program and wish to travel to the US as media representatives will not be able to use the ESTA permit or use a visitor visa (B) for these purposes.
It is important to know the scenarios where you can travel to the US with a B-1 visa (for business), a B-2 visa (for tourism), or an ESTA instead of an I visa. You need the I visa if your reasons for visiting the United States are the following:
Attending a conference, seminar or meeting.
Photography without receiving income from US sources.
You will give lectures or participate in academic activities.
Take a vacation.
Visit the US without the need to work or report travel.
Note: Photographers may enter the US on a B-1 visa to take photographs. However, they must not receive income from any US source.
Who needs an I media type visa?
Any member or employee of foreign media can apply for an I visa. To do so, they must belong to one of the categories for travel purposes shown below:
Film producers or distributors
If you are distributing or producing any film for educational or informational purposes. You may be eligible for this visa if the film is financed by a company outside of the US.
Contract journalists
All journalists who have a contract with a media company from another country may apply for the visa to collect informative news. However, they will not be able to film, photograph or perform any commercial entertainment.
Journalists or employees of an independent production company
If you work for an independent production company or have journalist credentials, you may be eligible for the I type media visa. In case you are filming a news event or documentary in the United States.
Representatives of a tourist office
If you belong to a tourist office that is controlled, operated or partially financed by a foreign government, you may be eligible for this visa. However, your purpose in the country must be solely the dissemination of tourist information and you do not have the right to an A-2 diplomatic visa as an employee or official of a foreign government.
Foreign journalists reporting on American events
All international journalists traveling to the US to inform a foreign audience about an American event can apply for this visa.
How to apply for the I type media visa?
The I visa application process is similar to that for a nonimmigrant visa. To do this, you must follow these steps:
Complete Form DS-160.
Pay the corresponding fee ($160).
Schedule the interview with the US embassy or consulate.
Prepare all the necessary documents for the interview.
Answer the interview questions about your visit to the US.
What documents do I need to apply for the I media type visa?
You will need to gather and prepare the following required documents before going to your I visa interview:
Valid passport with a validity greater than 6 months after the expiration of your stay in the country.
Confirmation page of the DS-160 form.
Receipt of payment of the fee.
2×2 inch size photo.
Additionally, applicants for an I visa may be required to submit certain additional documents to the US embassy or consulate. These are usually:
Letter from your employer describing the reason for your visit to the country, the duration of your employment contract or the compensation you will receive.
Medical documents proving your good health.
Police documents showing that you have no criminal record.
Licenses, credentials, or other qualifications showing that you are a journalist or member of the media.
How long does an I type media visa last?
In general, the US immigration authorities grant the I visa for the duration of your employment contract in the US. In case the contract does not have a defined duration, then the visa will only be valid for 1 year.
If your visa is about to expire, but you intend to stay in the US longer, you can apply for an extension of your stay. Extensions are granted for a period of 1 year and you may need to show that you continue to work for the foreign news organization for that entire time.
How to extend the I visa stay?
To extend your stay beyond the date indicated on your admission stamp or on Form I-94, Arrival/Departure Record. You must file Form I-539, Application to Extend or Change Nonimmigrant Status, with the United States Citizenship and Immigration Services (USCIS) before your stay expires.
You must depart the US before the date indicated on your admission stamp, unless USCIS approves your extension of stay. If you do not leave the country on time, you may lose your status and your eligibility for future visas.
Period of stay for aliens
Since May 2020, the Customs and Border Protection Service (CBP) issued a rule for the period of admission and extensions of stay for foreign representatives. The regulations limit the maximum period of stay that non-immigrants I from the People's Republic of China can stay.
I nonimmigrants from China may be admitted only for the authorized period of stay in the US. The period must not exceed 90 days. Unless they hold a Hong Kong and Macau Special Administrative Region passport.
If you fall under this category and want to stay in the US longer, you can request an extension with Form I-94. However, you should be aware that if you leave the country while the application is pending, USCIS will deny your request.
Employment-based period of stay
You can continue with your media employment while the application for extension of stay is pending. However, you will not have to work beyond 90 days after the expiration of the I-94 form. Regardless of whether your application is pending.
The amount of time of your employment will be stated on the application, only if the processed application is approved. If the extension request is denied and your I-94 form has expired, you must immediately stop working and depart the US.
Frequently asked questions about the I type visa for media
How long does it take to process the I visa?
The type I media visa is one of the fastest visas to be processed. In general, the estimated time is usually from 1 to 3 weeks approximately. However, the time may be delayed in some cases since it depends on the workload of the US embassy or consulate.
Can I get the Green Card with the I visa?
It is not possible to obtain the Green Card through the I category. However, there are certain scenarios where the holder can change their status. An example is being hired by a US company and being sponsored for an H-1B visa.
How can I change my status?
If you are currently in the US and want a change of status, you will need to file Form I-539. In addition, you must accompany your application with some evidence of your current status and a letter from the foreign media company you work for.
In the letter, the media outlet must describe your type of employment and show that you are a representative of that outlet.
How to bring my family to the US with a type I media visa?
Spouses and children of the media visa holder may be eligible to obtain the I-2 derivative visa. Couples must be legally married to qualify for this visa. In addition, they must submit the following documents:
Copy of marriage certificate.
Birth certificate of the children.
Submit form DS-160 each.
If the spouse and/or children do not intend to stay in the US with the primary holder, but do intend to visit. They might then be eligible to apply for the B-2 visa.
---
At the Lluis Law firm, our lawyers can help you in the processing of the media I type visa. Contact us today for personalized legal advice regarding your case.
LATINOS WITH OVER 50 YEARS EXPERIENCE
Tell Us Your Case