Many aliens do not know what an adjustment of status in the United States is and what it is for. In this article we will explain step by step this immigration relief process.
---
If you are a foreign national in the United States and wish to adjust your status, contact our Los Angeles immigration lawyers immediately .
With more than 50 years of combined experience, the attorneys at Lluis Law have helped hundreds of immigrants successfully apply for this process.
LATINOS WITH OVER 50 YEARS EXPERIENCE
Tell Us Your Case
What Is An Adjustment Of Immigration Status In The United States In 2023
An adjustment of status (AOS) is an immigration process in which a national foreigner who is in the United States applies to USCIS for lawful permanent resident status in order to obtain a Green Card.
This process allows aliens to obtain a Green Card from the US without having to return to their home country. If they are outside of the US, aliens must go through consular processing.
Don't know what visa you currently have? You do not know with which visa you can make the adjustment of status? We invite you to learn about the different types of American visas.
Who Is Eligible For An Adjustment Of Status?
For aliens to be eligible for an adjustment of status, they must be physically present in the United States, have an immediately available immigrant visa, be admissible to the US, and have entered the country lawfully.
Aliens who are inadmissible or have violated certain immigration laws may be eligible to apply for a waiver of these violations in conjunction with their application for adjustment of status.
To learn in detail how to obtain this exemption, check our article on the waiver of inadmissibility where you will find information about it.
Steps To Follow To Adjust Status In 2023
Aliens who wish to adjust status should consider the following necessary steps for this process: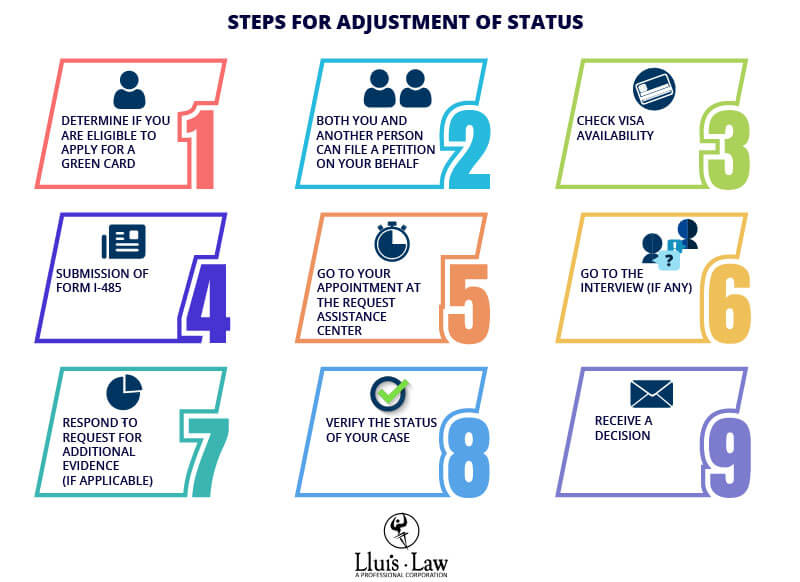 1. Determine If You Are Eligible To Apply For A Green Card
Eligibility requirements will vary depending on the immigrant category in which the alien falls. The first step is to determine if the applicant falls under any of the categories that allow them to apply for a Green Card.
To do this, please review "eligibility categories" in our article "How to get a Green Card".
2. Either The Beneficiary Or Someone else Can File A Petition On Behalf Of The Beneficiary
The usual thing for most people is to have to submit 2 forms. On the one hand, an immigrant petition and, at the same time, the Green Card application (Form I-485).
Generally someone will file the petition for you. It is what is known as sponsorship or petitioning for someone else. The most common forms in these cases are the following:
In general, the I-130 form tends to be the most frequent by applicants. In "How to fill out Form I-130" we show you the process to complete it.
Other requests include:
Most categories require an approved immigrant petition before you can file Form I-485, Application to Register Permanent Residence or Adjust Status.
However, other categories will allow you to file both at the same time or while the petition is pending. It is what is known as concurrent filing.
Some categories like the Cuban Adjustment Act do not require an immigrant petition as a basis.
3. Verify Visa Availability
As a general rule, the applicant cannot file Form I-485 until a visa in their category is available. Therefore, you should check the visa bulletin on the official website of the Department of State.
You should also review the visa availability and priority dates page and the adjustment of status filing charts. It is important to mention that not all immigrant categories require availability.
4. Filing Of Form I-485
If the alien is physically present in the US and is eligible to adjust status, they may file Form I-485.
It is important to emphasize that if the alien is going to request an adjustment of status under Section 245(i) of the Immigration and Nationality Act, they must complete both the I-485 and Supplement A of the I-485, adjustment of status under the section 245(i).
5. Go To The Appointment At The Application Assistance Center
After the alien has filed their Form I-485, they will receive a notification for their biometric services appointment at an Application Assistance Center (ASC).
This is done in order for the national foreigner to provide their fingerprints, signature and photograph. The notice will indicate the date, time and place of the appointment. If the alien does not sign or show up for their appointment, their Form I-485 application will likely be denied.
6. Attend The Interview (If Any)
USCIS officers will be the ones to determine if the alien's case requires an interview or not. If one is scheduled, the alien will have to answer questions under oath or make a statement related to the I-485.
It is important that the beneficiary or sponsor bring all of the original documentation submitted on the I-485 form. That is, official travel documents, passports and the I-94 form whether it has expired or not.
7. Respond To Requests For Additional Evidence
USCIS may require additional evidence in the following cases:
Not all requested evidence was submitted;
The evidence that was submitted is no longer valid;
For the applicant's eligibility, the officer has deemed that the applicant needs more information.
The request will tell applicants what evidence is needed, where to send it, and the deadline for responding to the request. If you do not respond to this requirement, the request may be denied.
8. Check The Status Of The Case
Applicants can check the status of their case through an online check or by calling the USCIS Contact Center: 800-375-5283. For individuals with disabilities: (TTY) 800-767-1833.
It is recommended that you have the receipt number, A number, name, and date of birth on hand so that you can provide this information to the USCIS officer handling the case.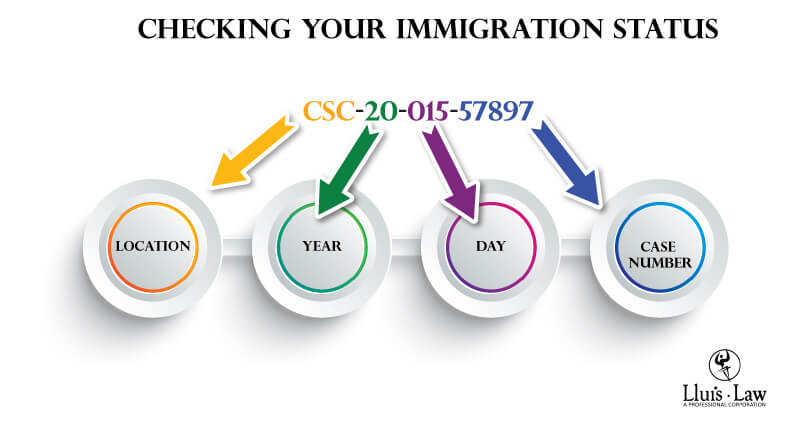 9. Receive The Decision
Applicants will receive a written decision as soon as USCIS has processed it. If it has been approved, you will receive the notification about this and then the Green Card of permanent resident.
If the request is denied, you will also receive a notification along with the reasons that caused the denial. In addition, it will be indicated if said decision can be appealed.
Generally, the decision cannot be appealed, but an immigration appeal process can be filed to have the case reconsidered.
Note: If you change your address, you must notify USCIS within 10 days of moving. You can find more information on the change of address page and you can update your address.
Requirements For Adjustment Of Status
There are certain common requirements for the adjustment of status application. Although depending on the type of alien who requests it, more requirements than those mentioned below will be added:
Petition form. Complete Form I-485;
Payment fee. This can be, depending on the case, by check or money order, payable to the Department of Homeland Security of the United States;
Copy of the Birth Certificate ;
2 recent passport-type photos ;
Copy of nonimmigrant visa. If the visa was issued by the American embassy or consulate in the 365 days prior to the application for adjustment of status;
Biographical information. Applicants between the ages of 14 and 79 must fill out and attach Form G-325 A;
Medical and vaccination history. Complete Form I-693. All individuals applying for Permanent Residency must undergo an immigration medical examination. More details on the requirements for the medical exam are provided at the following USCIS link;
Copy of I-94 record. It must be a copy of Form I-94, entry and exit record to evidence the applicant's immigration status in the US;
Notification of having received the package. It is a good idea to make sure that USCIS received the package you sent. You can ask the agency to confirm it by email or by SMS, through Form G-1145.
Different Pathways To Adjust Status In The US
Below we will indicate some of the ways or categories in which an individual can adjust their status in the United States:
Adjustment Of Status By Marriage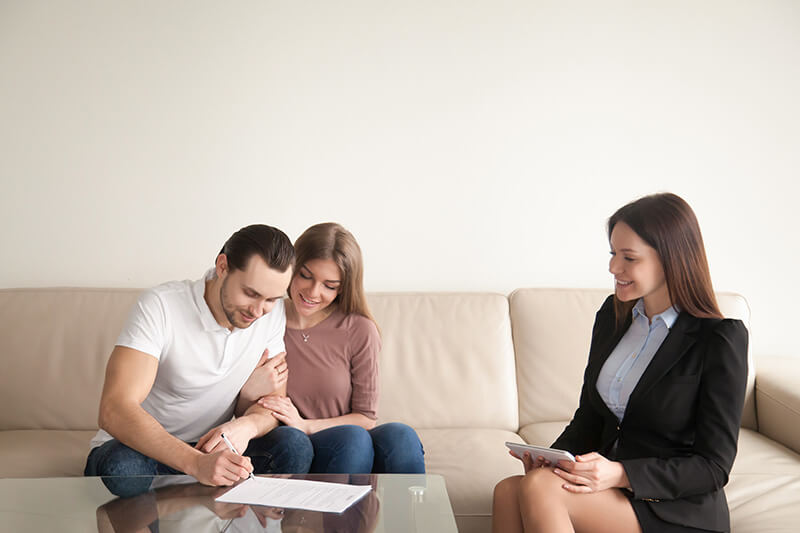 Adjustment of status by marriage in 2023 remains one of the most popular ways to adjust status. 
This category includes all those aliens who are fiancés of US citizens. If so, national foreigners may apply for adjustment of status by marriage with permanent residence.
To be eligible, the alien must:
Possess a K-1 or K-2 fiancé visa (if you are the fiancé's child);
Get married within the 90-day period in which you can legally remain in the US;
Get married to the same individual who applied for the visa;
Continue with your marriage, you will not be able to change partner at any time.
You may be interested in learning about marriage based Green Card interview questions and how to prepare for them. Additionally, there are also K-3 and K-4 visas available for certain spouses of Americans.
Adjustment Of Status Through The U Visa
Aliens who have been victims of certain crimes and have obtained a U visa can apply for a Green Card and become permanent residents of the US. To do so, the applicant must:
Be in U nonimmigrant status, which is only available to victims of:

Physical abuse;
Mental abuse;
Other crimes that affect your health.

Meet other additional requirements for adjustment of status through the U visa.
Through Family Petition
Aliens who are relatives of US citizens may be eligible to obtain a Green Card through US family based immigration. An example of this would be the adjustment of status for a citizen's child or for a citizen sibling.
In our blog we have covered several questions regarding this topic such as the following:
These relatives will only be able to adjust status if they are legal in the US and have their respective valid American visa.
Adjustment Of Status With A Tourist Visa
Although it is a complex issue, some aliens can apply for an adjustment of status with a tourist visa. However, USCIS must notify whether or not the immigrant approves the application for adjustment of status with a tourist visa.
This is a topic that not even immigration attorneys agree on. Many affirm that it cannot be done outright, because the B-1 visa and the tourist visa for the United States are temporary.
Therefore, it would be a violation to enter the country with the intention of staying permanently. For these specific cases, it is important to have the help of a good immigration lawyer like Lluis Law, since only the precise study of an individual case can give the answer.
Not sure if you can adjust your status or not with a tourist visa? Don't worry, we have an article focused on answering the following question: Change of status from visitor visa to Green Card.
Adjustment Of Status Through Asylum
US immigration law allows aliens who have applied for asylum in the USA to become eligible for adjustment of status after they have been physically in the US for at least one year since receiving asylum.
Through Employment
Aliens who are sponsored by an employer, US business, or sponsor can adjust status through employment. An example would be from the following visas:
Other Paths For Adjustment Of Status
Other ways in which an alien can achieve adjustment of status is through:
By continuous residence if you have been in the United States since January 1, 1972;
Through the T visa;
Through the VAWA visa;
By Cuban nationality;
For special immigrant cases, such as Special Immigrant Juvenile Status (SIJ) cases;
Aliens who collaborate with the US Armed Forces.
Currently, there is a bill known as "The Venezuelan Adjustment Act" which would act in a similar way to the current Cuban Adjustment Act.
What Can I Do If I Was Denied Adjustment Of Status?
If an alien was denied adjustment of status, they have 3 possible options to choose from:
Request a review. Form I-290B, notice of appeal, or motion must be filed with the Administrative Appeals Office (AAO) within 30 days of receipt of the denial notice;
Submit a new application. The applicant may be able to submit a new application by submitting new forms. However, the applicant must:

Leave the US immediately, unless they have valid immigration documents that allow them to remain in the country;
Determine the reason their application was denied before submitting a new application.

Apply for relief from removal proceedings. Once USCIS denies an adjustment of status, removal proceedings begin. However, the immigrant may qualify to stop deportation through:

Cancellation of removal;
Political asylum;
Parole in place;
Other immigration relief.
Was your application for adjustment of status denied? Don't worry, you can still become a lawful permanent resident. Our attorneys can help you.
How Long Does An Adjustment Of Status Take Nowadays?
The waiting time for adjustment of status depends on the category in which the applicant tries to adjust their status and the USCIS office in charge of the process. For example, the time of adjustment of status for spouses usually ranges from 9 to 11 months.
How Long Does It Take To Adjust Status In California?
Currently the adjustment of status takes longer than usual. At the California Service Center it takes approximately 8-43 months. The difference between one center and another depends on whether or not the interviews are carried out and the additional requirements demanded.
How Long Does The U Visa Adjustment Of Status Take?
The time it takes to apply for adjustment of status for the U visa can take between 13 and 29 months. After that, the time it takes to receive the approved Green Card in the mail can take approximately 30 or 90 days.
How Long Does A Work Permit For Adjustment Of Status Take?
Generally, an adjustment of status work permit takes approximately 5-7 months.
It's important pointing that:
Aliens will not be able to submit a work permit application until they have submitted the Green Card application;
Spouses of permanent residents must wait for a number of visa before filing the I-485, so they must wait an additional 19 to 25 months;
Spouses of US citizens will not have to wait for a visa number.
Aliens usually look for better employment opportunities in the US and look for work sooner. Others, on the other hand, enter with a business visa and stay in the country.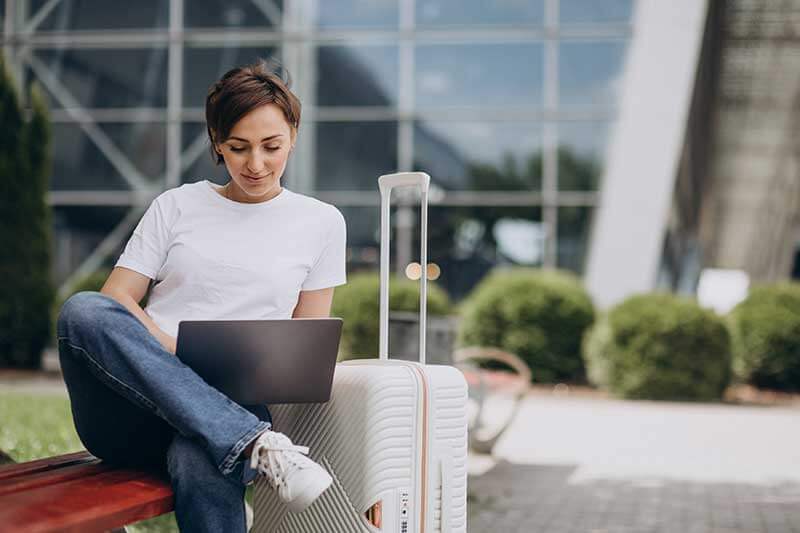 Can I Work Or Travel While I Wait?
To work you must have a work permit first. As for traveling, you can also as long as you have previously approved the advance parole (travel permit). For this point, it is important to know what a parole is in the US.
How Much Does Adjustment Of Status Cost In 2023?
The adjustment of status has a minimum cost of $750 and a maximum of $1,225. However, the cost depends on the applicant's age and other factors. We will show it in detail below:
$750 for applicants under the age of 14 who apply with a parent;
$1,140 for applicants under the age of 14 who apply without a parent. They do not need to pay biometric fees;
$1,140 for applicants age 79 and older. These do not pay a biometric fee;
$1,140 for applicants between the ages of 14 and 78 plus an additional $85 for biometric services.
Note: Refugees in the US will not have to pay any costs to adjust their status. That is, the application will be free.
What Is The Difference Between Adjustment Of Status And Green Card?
Adjustment of status is a process to apply for lawful permanent resident status in the United States;
The Green Card is the legal document that proves that the applicant is a legal permanent resident.
Although there are different ways to adjust the status to that of a resident, it is a process that can be negatively affected if the necessary requirements are not respected. For example, applying for adjustment of status by marriage and then getting divorced in the middle of the process.
To learn more about this topic, check our blog on "What happens if you divorce before Green Card interview".
Consular Processing As An Alternative To Adjustment Of Status
If your immigration attorney tells you that your case does not apply to apply for adjustment of status, the other option is consular processing. For which the alien must leave the United States.
The problem in meeting this requirement arises when the alien has been in the US illegally for more than 180 days. The immigration law establishes bars of 3 and 10 years, although there are also exceptions.
What Are The Advantages Of Adjustment Of Status?
You obtain the Green Card (Legal Permanent Residence) without leaving the US.

Save the entire process and cost of having to do it from outside the country.
Allows you to remain with your family by not having to leave the country.

Avoiding the 3 and 10 year bars of inadmissibility.
What Happens After I Get Adjustment Of Status?
Once you wait the required amount of time and receive your Green Card in the mail, you are free to work and reside in the US. You can also travel abroad and return. After a few years, you may be eligible to become a US citizen.
Experienced Adjustment Of Status Attorneys
If you would like more information about adjustment of status or other immigration matters, please call us. The attorneys at Lluis Law are available to help you through every step of this process to obtain legal permanent residence.
---
At Lluis Law we have been working as adjustment of status attorneys for more than 40 years, resolving immigration matters in the Los Angeles area and the rest of California.
LATINOS WITH OVER 50 YEARS EXPERIENCE
Tell Us Your Case