In this article you will learn everything about adjustment of status. The step-by-step process, eligibility and documentation. A 2022 detailed article where we answer frequently asked questions.
---
If you or a family member need help in adjusting your status, contact one of our expert immigration attorneys. We have been serving immigrants to the Los Angeles and California for over 40 years.
What is an adjustment of status?
The process known as adjustment of status allows you to apply for legal permanent residence to obtain a Green Card in the United States. This immigration process is carried out by foreigners who are already within the United States. In other words, foreigners can obtain a Green Card without having to return to their country.
Note: If you are outside the US please review our article on the consular processing. That will be the procedure to use to apply for the visa in those circumstances.
Steps to follow in 2022 for the adjustment of status
To apply for permanent residence you must follow the steps below correctly. A simple mistake can ruin the entire process. Remember that you have our immigration lawyers in Los Angeles available to assist you.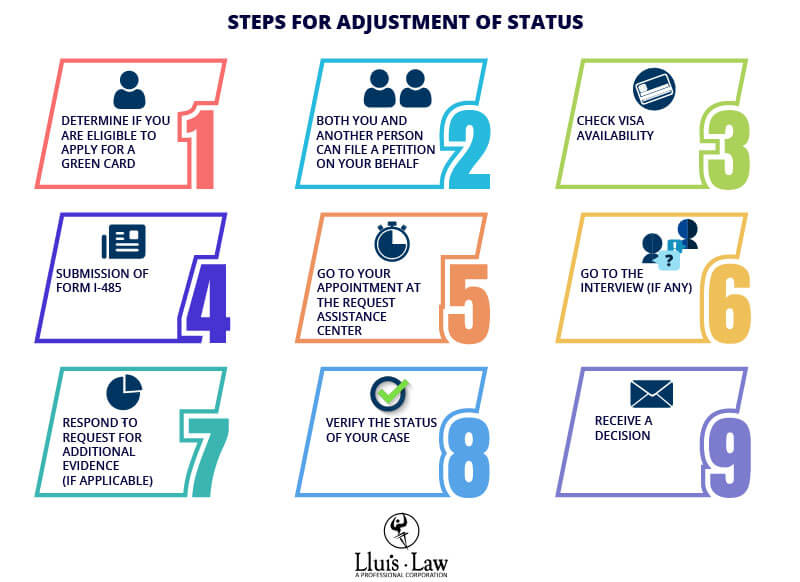 1. Determine if you are eligible to apply for the Green Card
Eligibility requirements will vary based on the immigrant category you are in. The first step is to see if you fall under one of the categories that allow you to apply for a Green Card.
To do this, please review "eligibility categories" in our article "How to get a Green Card".
2. You and someone else can petition on your behalf
The usual thing for most people is to have to submit 2 forms. On the one hand, an immigrant petition and, at the same time, the Green Card application (Form I-485).
Usually someone will file the petition for you. It is what is known as sponsorship or petitioning for someone else. The most common forms in these cases are the following:
Other requests include:
Most categories require an approved immigrant petition before you can file Form I-485, Application to Register Permanent Residence or Adjust Status.
However, other categories will allow you to file both at the same time or while the petition is pending. It is what is known as concurrent filing.
Some categories like the Cuban Adjustment Act do not require an immigrant petition as a basis.
3. Verify visa availability
As a general rule you cannot file form I-485 until a visa is available in your category. Please check the visa bulletin on the official website of the U.S. Department of State.
For further information about visa availability, please visit visa availability and priority dates page and the adjustment of status filing charts.
It is important to mention that not all immigrant categories require availability.
On our website you will find the most complete and up-to-date guide with all the main types of visas for the USA. A complete guide in English and Spanish with the most relevant American visas.
4. Submission of Form I-485
If you are in the USA and you are eligible to adjust your status you can file form I-485.
It is important to emphasize that if you are applying for adjustment of status to be a permanent resident under Section 245 (i) of the Immigration and Nationality Act, you must complete both Form I-485 and Supplement A to Form I-485, Adjustment of Status Under Section 245 (i).
5. Go to your appointment at the Application Assistance Center
After you have filed your I-485 form, they will send you a notice for your biometric services appointment at an Application Assistance Center (ASC).
This is done to provide your fingerprints, signature and photography. The notification will indicate the date, time and place of the appointment. These biometric data are used for security and to check possible criminal records.
At the ASC appointment you will be asked to sign a consent that certifies that you have reviewed all information provided and is true. If you do not sign this or miss your appointment, your I-485 request will likely be denied.
6. Attend the interview (if any)
USCIS officers will determine if your case requires an interview. If such an interview is scheduled, you will have to answer the questions of these officers under oath or make a statement related to your I-485 form.
Do not forget you or the family member who sponsors you to bring all the original documentation submitted on the I-485 form. That is, official travel documents, passports and the I-94 form even if it has expired.
7. Respond, if applicable, to requests for additional evidence
USCIS may require additional evidence in the following cases:
You did not send all the requested evidence.
The evidence you have submitted is no longer valid.
For your eligibility, the officer decided that he needs further information.
The request will tell you what evidence is required, where to send it, and the deadline to respond to the request. In case of not responding to this request it could be denied.
8. Verify the status of your case
You can do this online or call the USCIS Contact Center at 800-375-5283. For people with disabilities: (TTY) 800-767-1833.
Please keep your receipt number, A-Number, name, and date of birth available so that you can provide this information to the USCIS officer serving you.
9. Receive the decision
You will receive the decision in a writing decision note as soon as USCIS has processed it.
If it has been approved, you will receive notification of this and then the Permanent Resident Green Card.
If your request is denied you will also be notified along with the reasons that caused the denial. It will also tell you if you can appeal that decision.
You generally cannot appeal the decision, but you can file an immigration appeal to have your case reconsidered.
Note: If you change your address, you must inform USCIS within 10 days of moving. On the Address Change Information page you have more information and you are also able can update your address.
Requirements for adjustment of status
There are certain common requirements for applying for adjustment of status. Although depending on the type of immigrant requesting it, more requirements will be added than those mentioned below:
Request and complete Form I-485.
Payment of the rate as the case may be, by check or money order, payable to the United States Department of Homeland Security.
Copy of the Birth Certificate.
2 recent passport photos.
Copy of the non-immigrant visa, if it was issued by the American embassy or consulate in the 365 days prior to the application for adjustment of status.
Biographical information. Applicants aged 14 and 79, must complete and attach the G-325 Form A.
Immunization and medical history. Complete Form I-693. All persons applying for Permanent Residence must have an immigration medical examination. The following USCIS link provides more details on the requirements for the medical examination.
Copy of Form I-94, Entry and Exit Record to show the applicant's immigration status in the US.
Notification of having received the package. It is a good idea to make sure that USCIS received the package sent. You can ask the agency to confirm it by email or SMS, using Form G-1145.
What is Form I-485?
Through the Form I-485 adjustment of status or lawful permanent residence in the US is requested .
When this form is submitted, it means that both the immigrant's petition and the application for adjustment of status are being processed at the same time. The corresponding fees for each procedure are also sent along with the supporting documentation. In this way, USCIS receives the request and processes it.
When is Form I-485 filed?
Usually when there is a visa available for the category of the applicant. The exact time will depend on the reason described to request the Green Card.
Example: The spouse of a Green Card holder in preference F2A must wait for a visa number to be available. The visa number will be available according to the priority date established for the applicant.
Note: In exceptional cases, adjustment of status may be requested at the same time as applying for permanent residence. For example, for spousal petitions, unmarried children under the age of 21, or parents of a US citizen.
Cost of Form I-485
According to the type of applicant the cost for adjustment of status will be different:
Under 14 years old who applies together with one of their parents: $ 750.
Under 14 years of age who applies without parents: $ 1,140.
People between 14 and 78 years old: $ 1,225, including biometric service.
People age 79 and older: $ 1,140.
People admitted as refugees: free of charge.
In certain circumstances, certain immigrants can request a waiver to be exempt from paying the fee. Before applying, the foreigner should consult an expert adjustment of status attorney.
Waiver application could mean denial of adjustment of status petition due to Public Charge Rule.
The cost of Form I-485 must be paid by personal check, money order, or by credit card. In addition, Form G-1450 would have to be completed. If the adjustment of status is not approved, the cost of the fee is not refundable.
Who can apply for adjustment of status
To access the full list, please review step 1 of the adjustment of status procedure at the beginning of the article.
Here are some of the categories and reasons why you can apply for adjustment of status:
By family request through Form I-130.
We recently published an article that tells step-by-step how to fill out Form I-130. We invite you to read it and if you have questions or need assistance do not hesitate to contact us.
For employment: The immigrant must be requested by a sponsor or employer. Adjustment of employment-based status is requested through Form I-140, Petition for Foreign Worker.
An example is having entered through a job offer with the H-1B visa.
Adjustment of Status by Marriage: Fiancees of US citizens and their children can apply for adjustment of status through K-1 and K-2 visas.

It is important that the marriage is celebrated within 90 days of entering the country.
The wedding must take place between the person petitioned and the person requesting it. In other words, you can't change your boyfriend or girlfriend.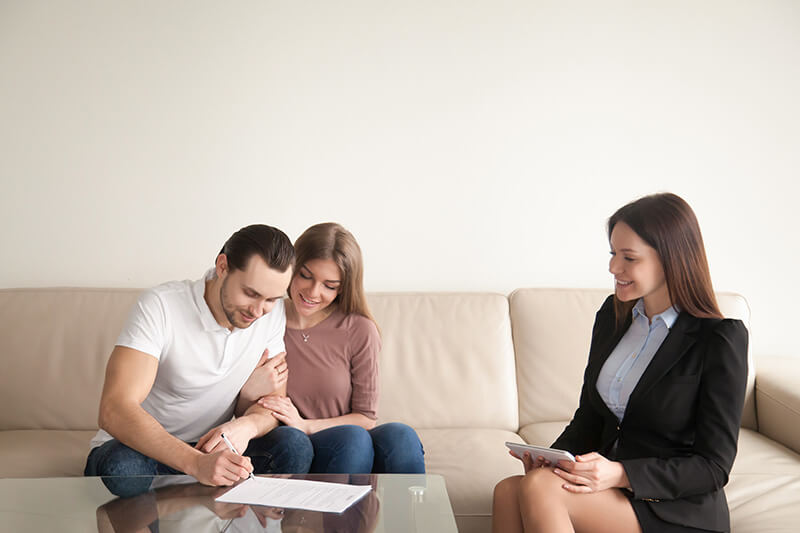 Upon completing the adjustment of status by marriage you may receive a conditional Green Card valid for 2 years. When you approach the final period of those 2 years, you must update it to the permanent Green Card that is renewable every 10 years.
For more information on the requirements and processes visit our page on the K-1 fiance visa.
Adjustment for immediate relative of spouse: For example, the child of the spouse of a US citizen or the spouse of a foreign worker.
Adjustment of status for asylum in the United States or for political refuge.
Adjustment for cancellation of removal: After an immigration judge decides to grant lawful permanent residence to an immigrant.
Special Immigrant Cases: Certain immigrants may file for adjustment of status through Form I-360 , Petition for an Amerasian, Widow (er), or Special Immigrant. Another person can also process it in your name. Others are the Special Immigrant Juvenile Status (SIJ) cases decided by the court.
Immigrant who collaborates with the US Armed Forces.
For being Cuban.
For continued residence in the US since January 1, 1972.
For humanitarian reasons:
Those who are not eligible for adjustment of status
Here are some cases in which you will NOT be eligible to apply for adjustment of status. The following 2 cases are exempt from the previous statement:
Those who apply for registration based on continuous residence since before January 1, 1972.
Those who apply under a category of special rules such as asylum, Cuban adjustment, special juvenile immigrants, or military.
Having clarified this, you will not be eligible for adjustment of status in the following cases:
You are already a conditional permanent resident.
Entered the US in transit without visa.
Entered the US as a non-immigrant member of a crew.
You have not been admitted or paroled after inspection by an immigration officer.
You are working in the USA without authorization from USCIS or you are no longer in the country. Except for some technical reason or causes beyond your control. This does not apply in the following cases:

Immediate relatives of US citizens.
K-1 fiancé or K.2 dependent who married the applicant within 90 days of admission or;
Holders of the H visa, media visa or special immigrant. That is, foreign medical graduates, employees of international organizations or their derivatives.

You are or were an exchange visitor holder of the J-1 or J-2 visa and did not meet the exit or deadline requirements.
You have A, E, or G nonimmigrant status or an occupation that would not allow you to have this status unless you fill out Form I-508, I-508F (French citizens), or I-566.
You entered as a K-1 fiancé but did not marry whoever petitioned you or was admitted as a K-2 son and your parents did not marry the person who applied.
You were admitted under the visa exemption program.
These are just some examples, there are other assumptions. To solve your doubts you can contact our lawyers who will give you answer to all your questions.
Consular processing as an alternative to adjustment of status
If your immigration attorney tells you that your case does not apply for adjustment of status, the other option is the consular processing. For which the immigrant must leave the United States.
The problem in meeting this requirement arises when the immigrant has been in the US illegally for more than 180 days. Immigration law establishes 3- and 10-year penalties, although there are also exceptions. In these cases it is essential to seek the help of an immigration attorney.
In some cases it is possible to request a waiver. However, obtaining it is not easy, as the statistics indicate. Our immigration attorneys will study your case and find the best options available.
USCIS profile for online verification
To get started you must create a free online account at USCIS if you have one or more pending immigration processes. USCIS offers this tool to monitor the progress of the application for immigration status.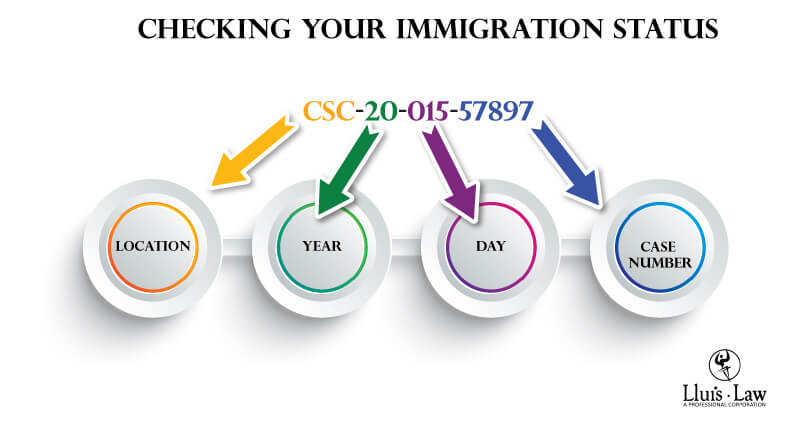 It only requires having the number of the receipt that USCIS gives you along with the notification of the process that you are carrying out. The process number consists of 13 characters with the prefix / acronym: CSC, EAC, WAC, LIN, NBC, MCS or IEO, followed by 10 numbers.
The 3-digit encoding corresponds to the USCIS offices:
CSC – California Service Center;
WAC – California Service Center (formerly Western Adjudication Center);
NBC – National Benefits Center;
MSC – National Benefits Center;
VSC – Vermont Service Center;
EAC – Vermont Service Center (formerly Eastern Adjudication Center);
IOE – ELIS (electronic file);
TSC – Texas Service Center;
SRC – Texas Service Center (formerly Southern Regional Center).
The steps to check the status of your adjustment of status application are:
Click on "Enter your receipt number."
Write or copy/paste the receipt number in the box.
Click on "Verify Status".
The procedure to check the status of your American visa is the same. You can get the following answers:
No Status: It means that despite having made the request, it has not yet been processed within the visa system.
Ready: The process is underway.
Administrative Processing: Although the visa is neither approved nor denied, it is in the process of further checks.
Issued: It means that the visa has been approved and is close to delivery.
Refused: The visa was denied, either due to ineligibility or inadmissibility.
Adjustment of Status FAQ
These are some of the most frequently asked questions for our attorneys. You can send us your own questions and get answer for your specific case.
What are the advantages of adjustment of status?
You get the Green Card (Legal Permanent Residence) without leaving the US

Save the whole process and cost of having to do it from outside the country.
You will remain close to your family since you don't have to leave the country.

Avoid the the 3 and 10 years bars.
How long does it take to adjust status?
Adjustment of status is currently more delayed. In the California Service Center (CSC) for example it takes between 8 and 43 months. While at the Texas Service Center, the delay is 14 to 41 months. The difference between one center and another depends on whether or not the interviews are carried out and other additional requirements.
It also depends on the category. For example, for family-based petitions it usually takes between 8 and 14 months.
Can I work or travel while I wait?
To work you must have a work permit first.
As for traveling, you can travel also as long as you have previously approved the advance parole.
Check our blog post "What is advance parole" to learn more. It is also advisable to consult your attorney to avoid crucial mistakes in the process.
Adjustment of status with tourist visa
This is an issue that not even immigration attorneys agree on. Many will deny any option. They argue that the B1 and B2 visitor visa is temporary and that it will be a crime to enter the country with the intention of staying permanently.
It is not that simple since everything is based on a legal and interpretable argument about preconceived intention and fraud. Something that experienced immigration attorneys can use in favour for the client and his adjustment of status.
For this specific case please contact us as only the precise study of your individual case can give us the answer.
What happens next?
Finally you receive the green card in the mail. You are now free to work and reside in the U.S. You can also travel abroad and return.
Now a path is opened to American citizenship. Depending on the type of Green Card you receive, you can apply for it after 3 or 5 years of holding your Green Card.
We discuss this in detail in our section "How to become a US citizen".
---
For more information on adjustment of status or other immigration matter, call us.
At Lluis Law, we have been solving immigration issues in the Los Angeles area and the rest of California for more than 40 years.